When gallery exclusive mode is enabled in a gallery, it removes the main website header and menus (and optionally the footer with an option to use a different footer) for a nice clean presentation. When the gallery opens, it shows a full size photo of the cover photo with the gallery name over it.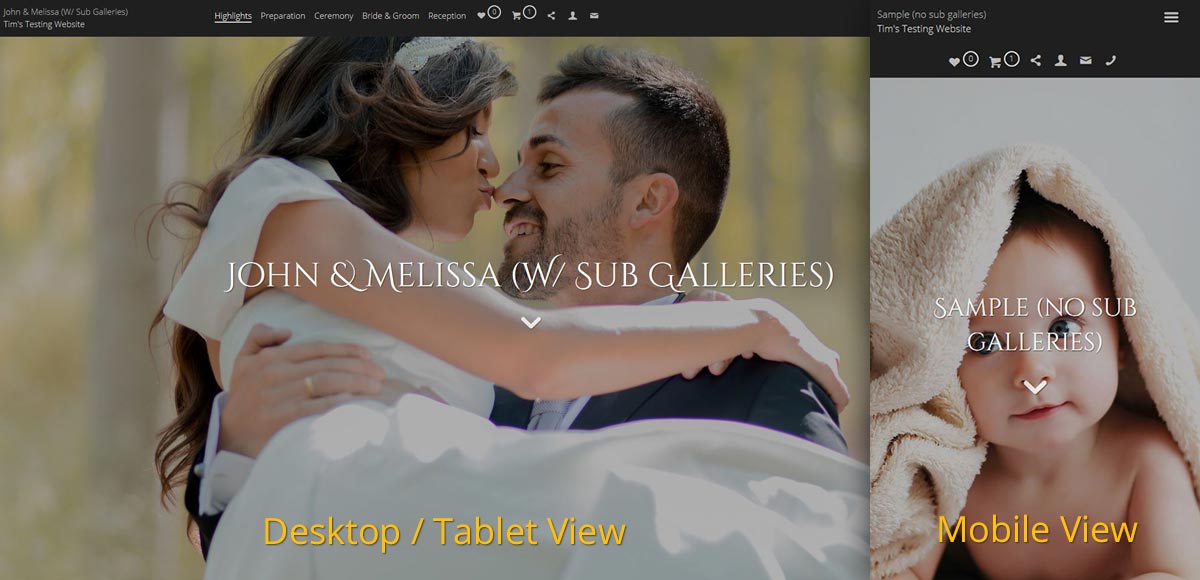 Also, everything done stays within the gallery like viewing favorites & checking out. Also has a nice login / create account window that stays within the gallery.

When sub galleries are used like for a wedding, those sub galleries show along the top of the screen. On mobile it shows nice clean icons at the top of the page and also a menu option to select sub galleries.

This option won't be for everyone, but will be great for weddings, portrait sessions, etc ... also for just simply sharing galleries.
How to enable
When you are editing a gallery, there is an option for turn it on for the gallery on the right side of the screen.
Turning it on by default
Edit the section your galleries are in (edit under the section name in the left menu of the Site Content area), click the Defaults section and you can turn it on there so it is automatically selected when you create new galleries.
Settings
Go to Design -> Gallery Exclusive
There you can set the name of your website that shows in the upper left corner of the menu and your website like if other than your Sytist home page.
Your Contact Page.
If you have a contact page created as a top level page, you can select it here and it will make a contact link in the menu
Your Phone Number
By entering in a phone number here, it will create a phone icon on mobile view where it can be pressed to call you.
Sub Gallery Limit
If your galleries have sub galleries, it will list them in the menu across the top. If there are too many, it can push menu items to another row which we really don't want. Here you select how many sub galleries to list until it shows a more icon to list all of them.
Show cover photo if password protected and asking for password
If the gallery is password protected, it will ask for a password. Check this option to still show the cover photo when asking for the password.
Remove website footer
This option will remove your main website footer and you can optionally create a different one in this section.
You also have the option to edit the text / language used for the menu items.
Menu Color
The color of the menu uses the color of your Top Mini Menu of your theme.