If you are doing school, sports, dance or preschool photography, password protecting each subjects photos is crucial. Sytist has a way for you to upload all photos for each event into one gallery and setting a password for each subject's photo or photos.
How it works
You will need to create a spreadsheet saved as a CSV file that has at least a column for the photo file name and a column for the password. If the subject has more than one photo, you will assign the same password to each of their photos. After you have uploaded the photos into a gallery you will import that CVS file and it will apply the passwords to the photos.
The customer visit the gallery on the website (or just use the Find My Photos option), enter in their password and then view only their photos.
Class or Group Photo
There are 2 ways to have class or group photos.
1) Do not apply a password to the group photo and when someone enters in their password they will see their photo(s) and the photo or photos without a password.

2) Assign a group photo to each individual photo by having a group column with the group/class photo file name.
Below is an example of a CSV file where the group photo has been assigned to the individual photos.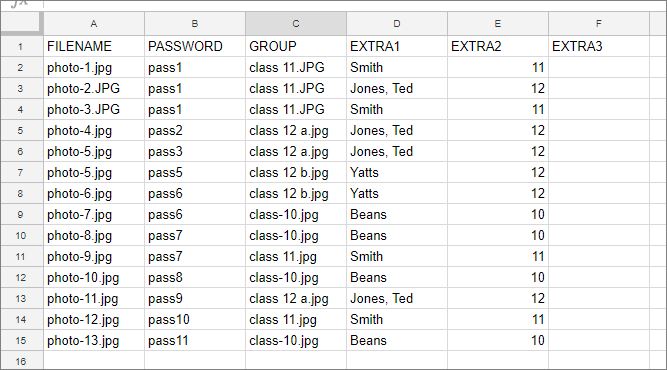 As you can see above there are also extra fields that can be imported with the photos. These fields can be exported on orders which can be used for grade, class, teacher name, etc...
More details on this feature here in the manual along with 2 other methods of adding passwords to the photos (as a keyword or in the file name).
Explore Sytist Features