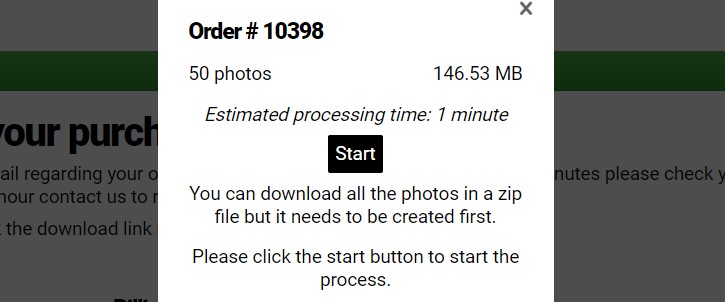 A new method of downloading multiple photos in a zip file has been developed and added to Sytist with the 4.4 update that allows us to add many more photos in a zip file than before.
Previously the download in zip files would have to be split into multiple zip files somewhere between 5 and 50 photos per zip depending on the server. Now the only limit is a 4GB total size (this is a PHP thing).
This applies to:
Free downloads
Downloading photos from orders
Downloading all favorites
Admin download all original files from an order
NEW: Admin download all original files from multiple orders
NEW: Admin download all original files from a gallery
NEW: When admin downloads photos from an order with greenscreen photos they now download with the background applied to the photo.
The download dialog will give an estimated time to generate the zip file and shows the number of photos and the total size of the photos being downloaded. It gathers up the photos, processes the photos if required, then zips it all up.
The estimated processing time logs recent downloads and creates an average of those recent downloads so the estimates are pretty close. This include calculating if the photo has to be processed or not (resized, watermarked) and if coming off of cloud storage or local server.
The zip files are kept on the server for 24 hours. After that they are automatically deleted.
If a zip file has already been generated and has not expired it will download that zip file that has already been created so it doesn't have to be generated again.
Detects when the download window is closed and aborts progress and deletes files that were moved.

It automatically cleans up canceled downloads and also checks for leftover folders that may be left behind and clean them up in case of something happening to stop the process.
Stats -> Zip Photo Downloads
Here you can see all the zip files that have been created and details about it. You can:
See what was downloaded (order, gallery, etc...)
Who created it
The time to process the zip file
The last time it was downloaded
You can delete a zip file before it expires
You can change the expiration date of a zip file by clicking on the expiration date
Hold your mouse over Last Download to see the download log of the zip file.
Note that the automated stuff to delete expired zip files and check for abandoned folders are done while you do things in the admin behind the scenes.