This controls how emails are sent from the server for order notifications, emailing customers about their galleries, contact forms, etc ...
Most of the time the option of PHP Mail() function will work.
With the default settings, test the settings with the test email option sending an email to yourself. If you receive the email you are good to go, don't change anything.
If by some chance your hosting company has the php mail() function disabled, try the " SMTP PHPMailer " option. See SMTP PHPMailer Setup below.
Trouble Shooting Emails Not Sending.
If you are having problems with emails not sending, it is NOT Sytist. Sytist calls the function to send the email, then it is up to the server to deliver the email. Same thing if SOME emails don't seem to send.
Below is some trouble shooting that MIGHT help.
If none of the below helps, you need to contact your hosting company and see if they can trace the emails, enable SPF, see if they are being blocked by the server or your IP address has been blacklisted due to possible spam from the same server.
1) Make sure they are not going into your spam folder.

Check your spam and bulk folders in your email program to see if they are going there.

2) Settings -> Mail SendingSettings.

Add return-path field. Change this to the opposite of what it is now.
Use the send test email and check your email.

3) Settings -> Admin / Main Settings -> "Name of your website".

This is the from "name" when emails are sent. Be sure this is not a web address. Example, do not enter www.picturespro.com or http://www.picturespro.com or picturespro.com. Enter in the name like My Photography Website.

Having an URL in that section can cause emails to get rejected by the server.

4) Settings -> Admin / Main Settings -> "Contact Email Address"

This is the default email address emails are sent from. It is possible your hosting company requires that you use an email address @your-domain (example: info@picturespro.com ). If you are using something different (like a yahoo or hotmail email address), try using one @yourdomain. You can set those up in your hosting control panel or contact your hosting company for assistance.
NOTE a @yahoo.com email address WILL NOT WORK. Yahoo won't allow emails like that to be sent from the server now in most cases.

5) Understand it is up to the server / hosting to actually send out the email.
IF NONE OF THE ABOVE WORK, YOU WILL NEED TO CONTACT YOUR HOSTING COMPANY AND HAVE THEM TRACE THE EMAILS OR TRY THE SMTP OPTION BELOW.

SMTP PHPMailer Setup
When using the SMTP option, it will send emails from your email server.
1) Use an existing email account @yourdomain or create another one. Below are screen shots using cPanel hosting.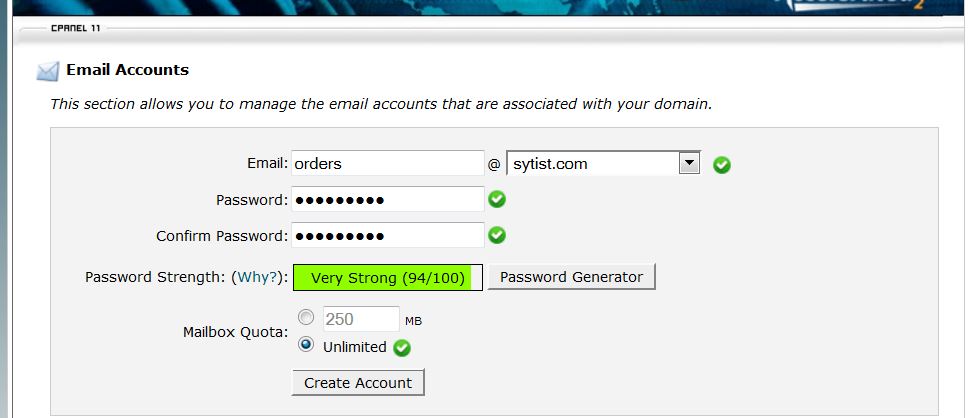 2) Once your email address is created, click More in the row of the email address and select Configure Email Client


3) Get your mail server. Most of the time it is going to be mail.yourdomain.com.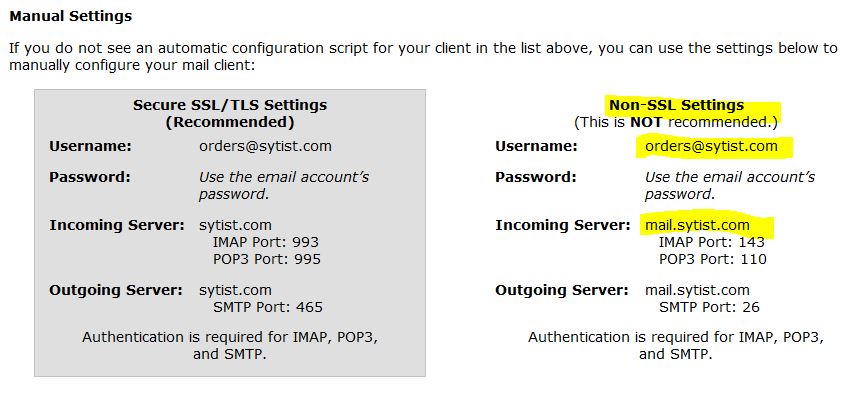 4) In your Sytist admin, go to Settings -> Mail Sending Settings. Select and enter in the options in the screen shot below: