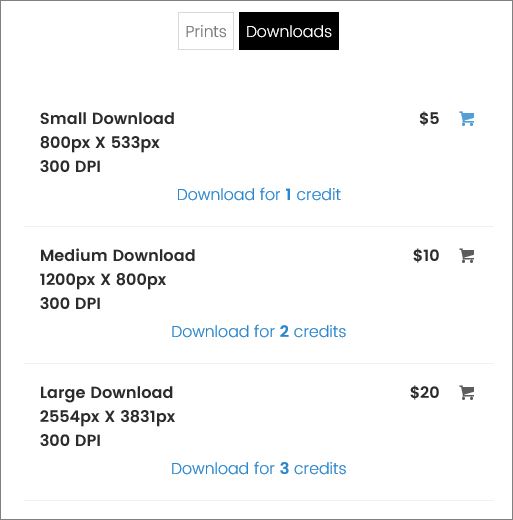 Starting with Sytist version 2.3.0 are download credits which can be found in the admin in Photo Products -> Download Credits. Download credits can be used a couple of different ways.
1: Download credits can be purchased to download photos while browsing. Example: a customer can purchase X number of download credits and while viewing photos, download right then using their credits.
2) You can create redeem codes for clients to redeem the download credits to their account at no cost, then download photos using their credits while they view their photos.
When download credits are available, it will show a link to download the photo and how many credits.
If you use the download credits, you will need to edit your download products in the Photo Products -> Product Base and set how many credits the download costs.
Setting up pricing & settings
Go to the Pricing & Settings section to set up the pricing. You enter in how many credits can be purchased at what cost.
In the display text for the pricing, be sure you enter in how many credits for what amount because that will be the only way they will see the price.
Example: 10 Download Credits for $20
The other settings on the pricing & settings page:
Purchase of download credits taxable
Whether they are taxable or not.
Do not offer option to purchase download credits
Check this option if you don't want to sell download credits and only offering them with redeem codes.
Only show the option to download with credits to people that have credits
This option means only people with download credits redeemed to their account will see the option to use download credits.
Redeem Codes
Create redeem codes to give to your customers so they can download photos using the credits.
If you give out a redeem code, you will need to instruct your customer to log into their account (or create one if one does not already exist), go to the My Account page and select the redeem download credits option.
The create a redeem code, click the Redeem Codes tab in Photo Products -> Download Credits.
Enter in a unique redeem code and how many credits are included.
To create a batch of redeem codes, click the Create a batch of redeem codes option.