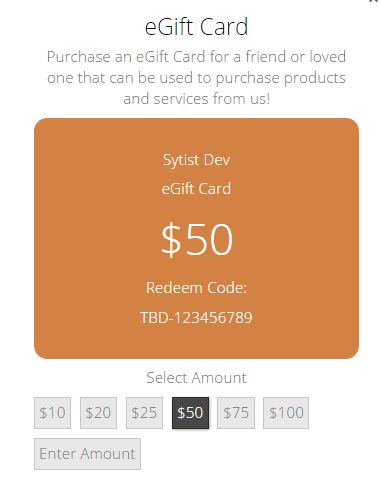 Starting with Sytist version 1.7 is the option to offer eGift cards. eGift cards are basically gift certificates that people can purchase to be emailed to someone else. When someone receives an eGift Card, they will have a redeem code to use and there will be an option at checkout for them to enter in that code.
The eGift Card will deduct from the purchase just like a payment. If there is any amount left over from the eGift Card, it will be added to the customer's account as an account credit.
To enable this feature all you really need to do is go to Design -> Menu Links and edit and enable the link in the menu.
If you rather create a page for it, you can create a new top level page (name it something like eGift Cards), and in the text area of that page, add the bracket code: [GIFT_CERTIFICATES] where you want the form to be displayed.
To add the eGift Card to the main menu or link on a page, use this for the URL:
javascript:giftcertificate(0);

To manage settings for eGift Cards, go to People -> eGift Cards.
Amounts & Settings
Available Amounts
Enter in the amounts you want the purchaser to select from without the currency sign and separated by commas. Example: 10,20,25,50,75,100
Add other amount option for customers to enter in their own amount
This will show an option to the customer to enter in their own amount if they don't want to select from the available amounts.
Show send date
Selecting "Show send date" will allow the person purchasing to select a date for the eGift Card to be emailed. Not selected, the eGift Card is sent when purchased.
If you have automated emails enabled, then it will automatically send the eGift Card email on the date selected. If you do not have automated emails enabled, then you will have to send the email on that date. You will have a notice on your admin home screen when eGift Cards are due to send.

eCard Style
This option allows you to adjust the colors of the eGift Card that is added to the email sent to the receiver.
Language
This area you can change the language and words used when someone is purchasing or receiving an eGift Card.