The bulk uploader built into Sytist makes it easy to upload photos. But you can also upload via FTP and then process them.
What is FTP? File Transfer Protocol. Basically a way to transfer files between your computer and website server. If you don't already have a FTP program, Filezilla is a free FTP client.
To upload via FTP, upload the folder of photos you are wanting to upload into the sy-upload folder.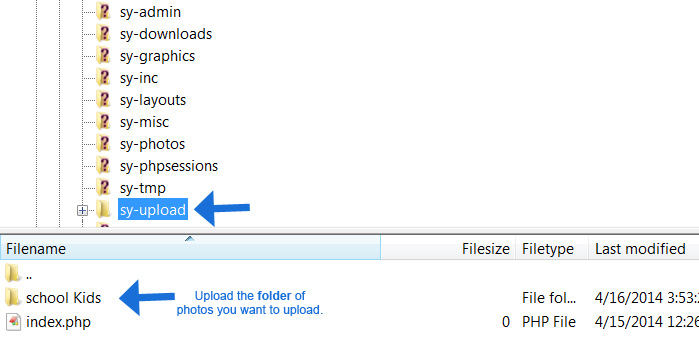 After they have uploaded, go to the page you are wanting to add them to and click Upload Photos. You will now see the folder(s) you have uploaded and click process next to the folder you are wanting to add.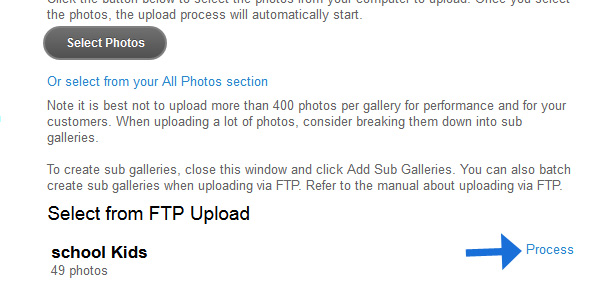 At this point you will see thumbnails getting generated. When it is complete, it will return you to the page you are working on.
Sub Galleries
If you upload a folder with sub folders in it, it will automatically create sub galleries.
Example:

Main Folder Name

Sub Folder 1 (has photos)


Sub folder 2 (has photos)

Sub folder 3 (has photos)

This will create the 3 sub galleries called "Sub Folder 1", "Sub Folder 2", "Sub Folder 3".
You can even add more sub folders inside the sub folders to create deeper sub galleries.
Password Protected Sub Galleries Upload
There are 2 ways you can batch upload sub galleries via FTP and automatically assign passwords to those sub galleries.

Password file in each folder
You can create a password.txt file that contains the sub gallery password in each sub folder you upload. If a password.txt file exists, it will use the contents of that file as the password for the sub gallery.
The password.txt file must be all lower case.
Passwords in a CSV file

.