Page Not Displaying According To Options Selected
I am having some trouble figuring out if I have the wrong options selected or if the page is not displaying correctly.
1. Page Title - I have selected "Check this box to show no page title on the page" but it still displays at the top of the page and on the first image ( I think the second part is a part of the gallery exclusive move but what about the first part?) Also, I have put in a Title to override the title, but it is not being used.
2. I can't figure out where the second header type image is coming from. At one point the category had the billboard options selected, but it was turned off and this page was newly created. Do you know where this image is coming from?
3. When I access this page on a mobile device I am not asked to enter an email, but I am when I access it from a desktop. Can this be enabled for mobile?
link to page
http://shop.boldactionmedia.com/client-galleries/my-pictures/2017-11-ggc/
You have a couple of things going on.
You have "
Gallery Exclusive
" selected for that gallery. That adds the large photo with the title over it at the top of the page. There is an option for that when you edit the gallery. You can uncheck that option, or if you want to use it, there is an option to not display the large photo.
You also have a billboard selected for that page. It is possible that you have selected "Display a masthead" in the section you have your galleries in (edit the section by clicking edit under the section name in the left menu of the site content section then Design Options -> Display a masthead) which will add it to.
And I checked on my phone and it does ask for the email address like on the computer. It could be you had already entered in your email address and why it wasn't prompt.
Edited Fri Nov 17, 17 4:34 AM by Tim - PicturesPro.com
Hi Tim, Thanks for the response.

I set this gallery up to to Gallery exclusive on purpose. I do not have any of the billboard options selected though as far as I can tell. I attached screenshots of the two places I think those settings are set.

What about the Title override? Is that option not used when you are in "Gallery Exclusive" mode? I am not worried about the title not appearing... just using the overrided name.

Thanks for checking on that. I did not realize it kept track. Perfect!

Thanks so much for your help. I have mainly used sytist with default look and feel settings up till now, but I want to start making things pretty because you have so many cool options. Thank you !
The title option doesn't have any effect on the title for the cover photo when using the gallery exclusive option.

For the billboard, see attached on where you might have it enabled in the section. I don't see your screen shots.
Attached Photos
---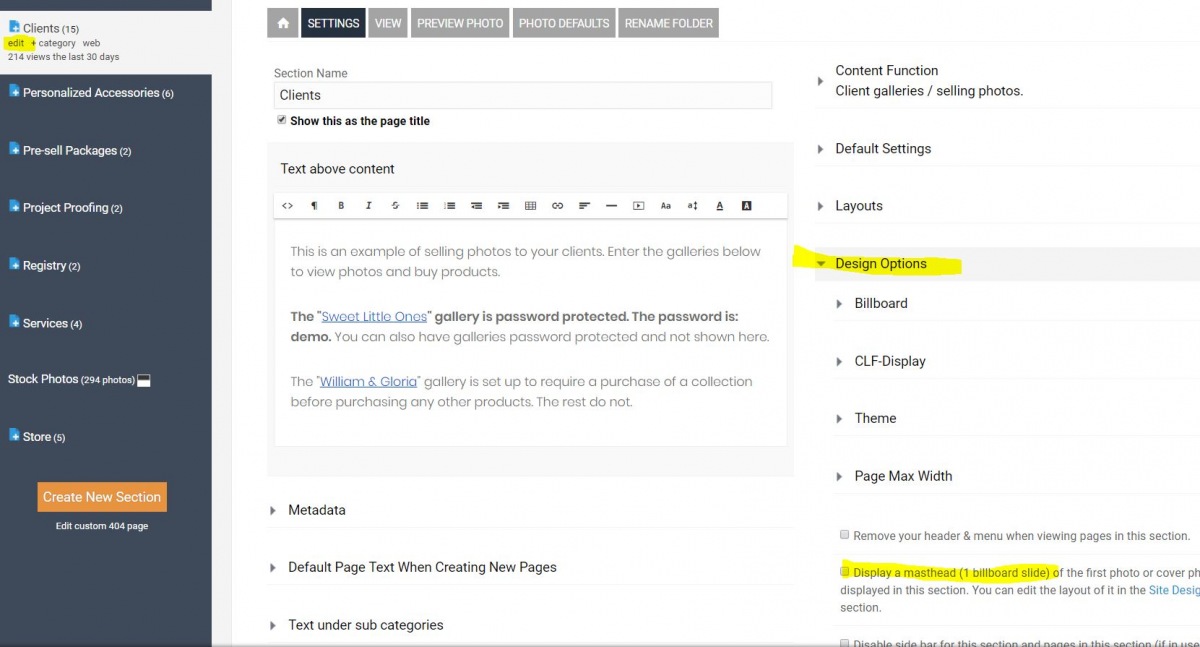 I attempted to upload two screen shots here to show you. But the bill board option is not selected for the page or the category. Do you want me to email you the pictures?
This event is Sunday so I really need to get that second image to go away by then. ????.

For future thought, it would be really nice if the exclusive gallery would use the title override too. That is actually where I would use it the most.

Loading more pages