Sytist Update 0.8.3 Now Available Including Pre-sell Packages
Hi Tim

Happy New Year!

I just wanted to say I love the new visual guide (expired, draft etc) for site content - makes my life much simpler to scan down and see what is happening.

I have had a really successful year in 2014 and no small part of that is down to Sytist (my online sales were up over 25% compared to 2013 using Photocart with approx same number of clients) and as I registered my copy of Sytist on 9th January last year I would say it is a pretty fair comparison.

Keep up the good work in 2015

Cheers

Pete
Tim,

Thanks Updated today Keep up the great work!!!
I am having a problem, Either I am doing the upgrade wrong, or perhaps I am just not getting the space i need from my host provider.

I am getting the following error message when I try to copy the files as directed:(attached jpg)

The file is to large for the destination file system

Service provider is GoDaddy. What should I look for to find the source of this error?


Attached Photos
---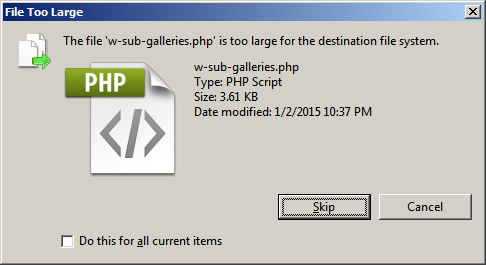 That was my problem, I had my remote site mapped to my PC like you would a network folder. It would only allow single file transfers or give the error message. When I switched to the FTP program it uploaded fine.

Tim, any way these pre-sell packages can be linked to the individual pre-registration pages? So as well as the sign up for info the pre-sell packages will be on the page. Figure we create the pages well in advance and send links out to the potential clients. Would be easier if we can have them go to one page and select what they want instead of giving them a few links! Thanks!
Thanks Tim, just figure we will have upwards of 50 pre-registration pages, makes it tough to scroll through. As well we may not want some options available for all events. Thanks!
I am setting this up know to pre sell sports and events. I am confused on where all the elements need to be.
I have an exsisting Price list for sports & events.
I create my section "pre-sell" and use the "Buy" sectin option
I enter my first package and type choose pre sell collection
the drop down menu only has the pacages I have in "collections" in my products section
I have other product i want to presell
How do I call up other products not under collections?
I am a little confused I thought I would just attach to a certain price list to order from

Loading more pages