Australian Tax
Configuration advice.

We are testing for an Australian store.

In regard GST, we must always show pricing including GST.

Currently if we set the product to "taxable" we need to enter a price without tax to have the cart calculate the correct tax inclusive price.
In doing so it displays each product at the tax excluding price.

If we deselect "taxable" we the show correct individual pricing and cart total but without any tax.

Is there an option to display "tax included" pricing on individual products where the cart does not add the tax again in its calculation?

King Regards

Jon

What should work is change the word "VAT" to "GST" in Site Design -> Page Text (search the page (CTRL+F) for _vat_ .

Then remove the tax in your tax settings and use VAT as your GST.

Then in Settings -> Tax, check the option for "Show prices including VAT". This will display the prices + GST. So you would need to price your products without the GST.

Example, if you need the product to display as $20 including GST and your GST is 15%, then make the price of the product 17.39

To get the price use the formula $20 divided by 1.15 (the.15 would be the GST percentage).

Hi Tim,
We have followed your advice and can confirm the settings are correct.
The pricing shown on the order window, as below, needs to show a tax inclusive price to be compliant in Australia.
http://d.pr/i/ARHt/1Uh2wnRf
Please advise?
Jon
Same problem for me. Jon, did you find a solution? If I uncheck this item is taxable, it doesn't show any tax value at the checkout. Even when show prices including VAT is checked, tas is added on at checkout.
Edited Wed Feb 07, 18 5:19 PM by Sarah MacKenzie
Hi Guys

Not sure if you all have this figured out now but I am also in Australia and (I think) I have it working correctly.

All my price groups were existing, but as I had not set them up to show the GST amount thought i had better correct it. I followed Tim's instructions above and could not get it to work and then realised that I also had to change the amount in any quantity discounts in the price lists. All seems to be calculating correctly now so my next task is to go through all of my price groups and update them :)

The correct Tax/ GST is showing as seperate amount in the checkout.. See attached.
Attached Photos
---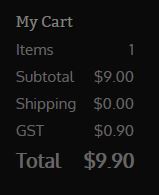 Thanks Michael! I'm not exactly sure of the steps you've taken to achieve this? I'd love to give it a go!
Edited Thu Feb 08, 18 6:56 AM by Sarah MacKenzie
Thanks Tim. I've tried this but this bit:
This will display the price of the product plus the VAT when displayed with the product and in the cart.

Is still not working. The price shown with the product and in the cart is without VAT.


Are you sure you have the product you have added to cart marked as taxable?

If so how about emialing me the link to your Sytist admin with the username and password and also the name of the product so I can take a look at the setup.
Hi Sarah. I'm guessing you are in Oz?

I'm no expert, but give me a call 0422263114 if you want to and I might be able to help if you cant figure it out.

Cheers
Thanks Tim and Michael! All sorted now. Had my tax % in the wrong boxes.

Loading more pages