Billboard Image Size
Hi,
I have made a few billboards and the size has worked out ok in the past (i was not worried about the layout of the image)
I now have made a slide but it is cropping it, I have done the following in photoshop:
resized the image to a width of 1024 width (did not work)
I also resized it to a height of 250 pix (as per my settings) (this did not work either)
both times the image was larger than the billboard.
sorry can't figure it out.

Daniel
The width of the billboard adjusts to the screen width of the display area of the page. When editing a billboard it is set to 1024px, so the default is 1024 x 250 (if the height is set to 250).

But they will be displayed larger or smaller depending on the visitor screen resolution and device. The largest is going to be the max width of your theme (1600 by default).

SO ... to figure out the best size to fit your billboard with little or no cropping, take the height you set for the billboard divided by 1024 ... 250 / 1024 = .244

Then 1600 * .244 = 390
Size to create 1600 by 390
thank you!! I was having trouble getting my billboard to not look like crap on retina displays. This did the trick.

On the subject of billboards, I wasn't seeing the little grab handle to drag and move the text, so I was putting spaces in first for placement. I learned the hard way that if your billboard text starts with a space, it doesn't save the text and you'll think you're losing your mind repeatedly trying to enter it. Hopefully I'm the only one who did that, but just in case, here it is? ;)
In the demo, the billboard is set to 300px in height. The slides are not cropped to match the dimensions. But if you wanted them to be the same dimensions then you would create them:

300 pixels in height:
(300 / 1024) * 1600 = 469
1600 x 469

500 pixels in height:
(500 / 1024) * 1600 = 782
1600 x 782

The font in the billboards in the demo is the google font "Bitter".
HI Tim,
It looks like you use the same templates for
www.picturespro.com
site as Sytist? If so what are the settings in getting something similar to the
www.picturespro.com
home page? Billboard, template settings and images dimensions your using. I like the billboard going to the edge.
Thanks again,
Ed
Attached Photos
---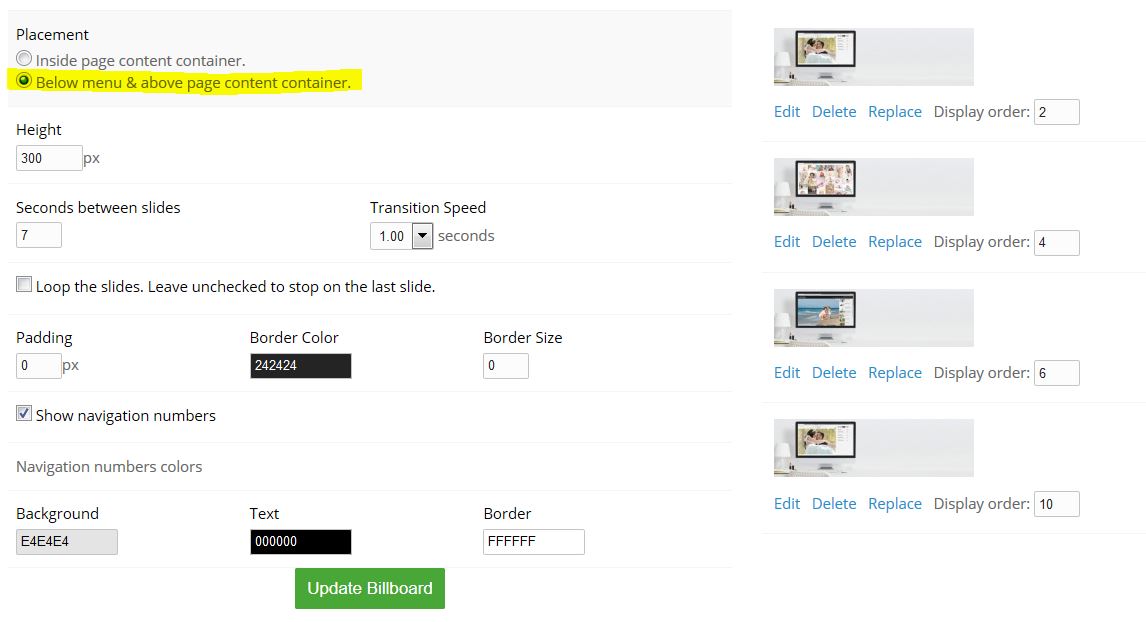 Oh nice perfect and how did you get the words on the billboard the such as;

Sell prints
Downloads
Collections (packages)
Services
and more...

in a fashion where the words move into the billboard...

Thanks

Ed

woooops disregard duh I see it now CLF-Display settings


Attached Photos
---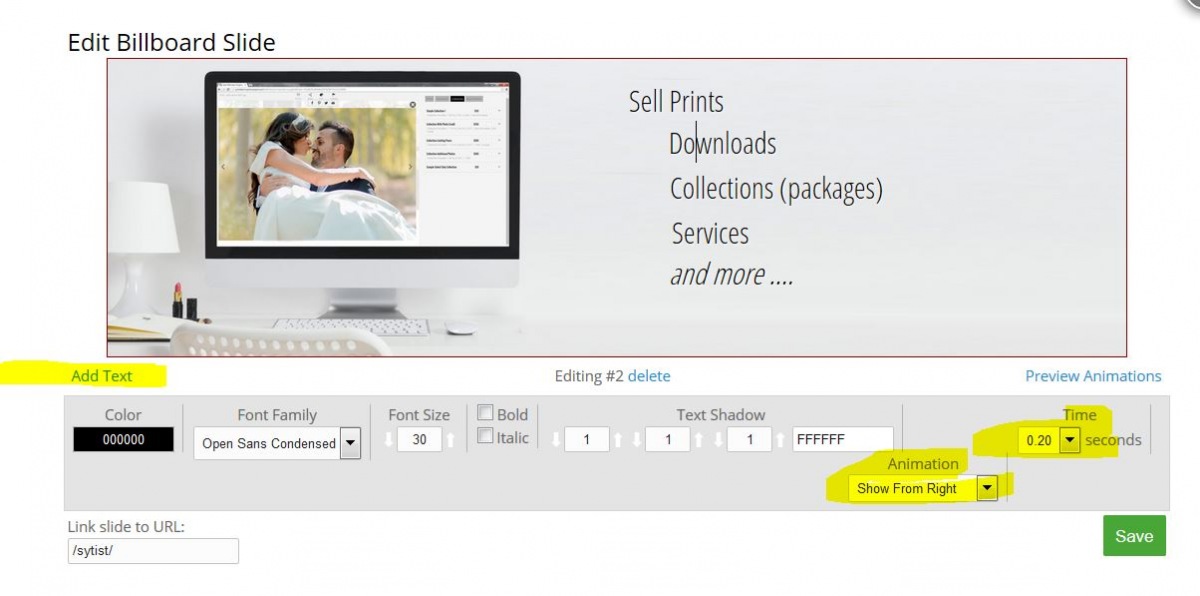 Option to have full size images in height in billboard galleries.

I've done a script in Photoshop that takes my image, determines the height to what I have decided in the billboard height in pixels, then add the background colour of your site on each side of the image to fit to the billboard size.
My image is then centred, full size in height with invisible borders as they are the same colour than my background.

With the previous post from Tim I've taken this calculation to set the width.

500 pixels in height:
(500 / 1024) * 1600 = 782
1600 x 782
Attached Photos
---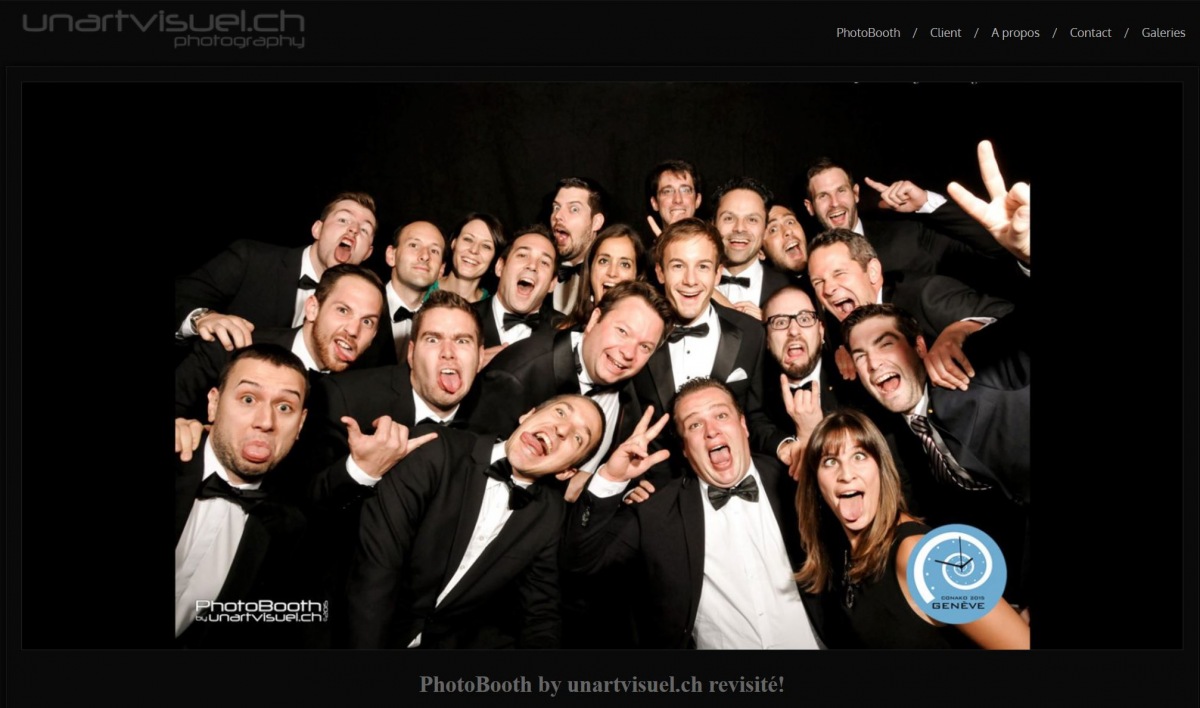 Edited Mon Apr 11, 16 8:05 AM by Lionel unartvisuel
Any help is appreciated.. my billboard images look like crap no matter what I size them as in photoshop. I tried your calculation above Tim. My billboard is set at 400px height. I did the following calculation: 400/1024*1600 which would then equal 1600x625. I cropped the image to these dimensions in Photoshop and it looks great and sharp. Once it uploads to my billboard, it looks soft, pixelated, and like it's being blown up or enlarged and losing pixels. Please help.

Edited to add: I figured this out (of course only moment after posting this help topic, but hours of madness in photoshop, haha!). In the Photo settings area in sytist, it was set to automatically reduce the size of my uploaded images to 1000px. I changed this to be 1600px and it's perfect! :)
Edited Tue Apr 26, 16 10:17 PM by Marybeth
I'm having a problem with the billboards and cannot figure out what math I need to do to get the billboard to fill the screen on my monitor. I love the effect of a full image on the home screen, like one of the featured sites shows, nicolezimmerphotography.com.

Here are my specifics:

Picture Dimensions: 1500X1072
Sytist Theme Width (Content Area Width): 2400
Billboard Height: ????

The height on the monitor I would like it to fill is 1350px.

No matter what I do with the billboard height, it is too big and will only shrink so far. If I try to resize the image to a smaller scale (1200X858) and bring down the bilboard height it is way too short, but increasing the height makes it go large again. So can someone tell me how the formula above should have my variables substituted to find out how to make the billboard fill the 1350px height that I'm trying to achieve? Once I figure this out I'm hoping to have a template that I can use to change the image.

Thank you!
I tried Marybeth's suggestion about changing the uploaded image size but it didn't help my image. It still looks blurry. Any suggestions?

Loading more pages