Expired Credits Suddenly Showing And Being Redeemed
Hi, I'm coming across a new issue where account credits that are long expired are suddenly showing on the front end of clients' accounts, and are being used to make purchases.

Ex: the attached screen grab shows a credit that expired in June of last year but the client is able to see the credit and apply it at checkout.

We're now having to honor credits that have long expired and should no longer be available. How do we fix quickly please?

Thank you!
Attached Photos
---


Click on Settings in the main menu.

Then under the left menu click edit config file.

See if you have added this line of code:

$setup['no_expired_print_credits'] = true; // Do not calculate expired print credits

If so, that could be causing it.
I did have that line in place. I removed it, and the issue seems to have gone away. Thank you!
Ok, now I'm having the opposite problem, After removing that line, the expired credits are deducting from the active credits when they shouldn't be. For example, in the attachment, the available credit should be $110 but because there was an expired $75 credit, there is only $35 credit available to the client. This is happening across all client accounts and I believe the line that was in place (that I removed) was there to correct this issue. How do I fix please?
Attached Photos
---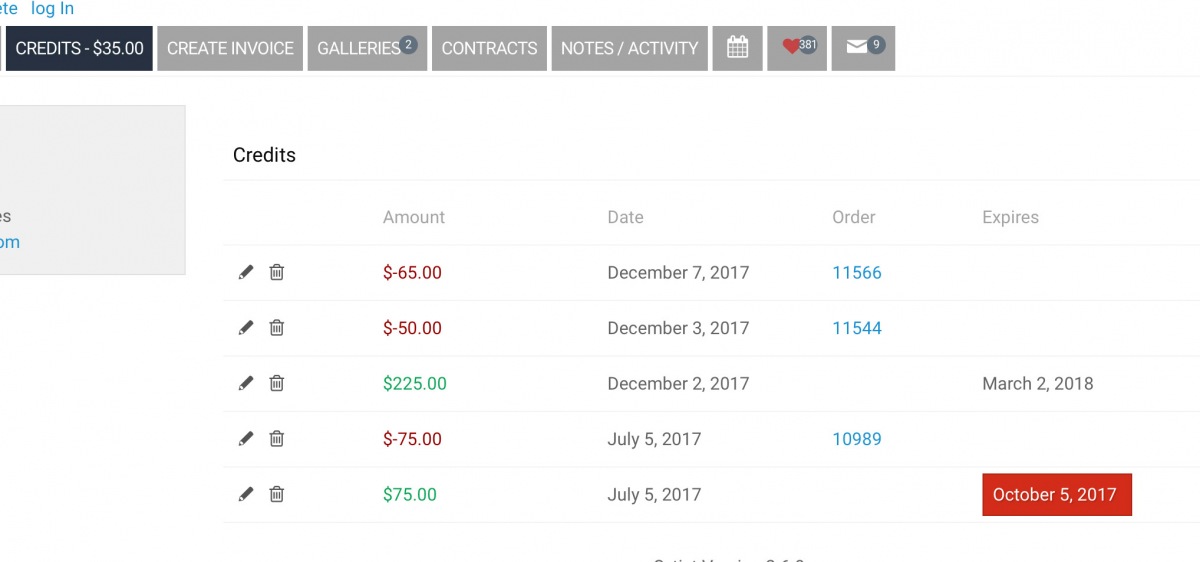 I have been trying to come up with a solution for this with the calculations but hit a wall. The problem is there is nothing in the database that connects a credit to a used credit.

So with the credit being used (the $75 one) and now expired it throws it all off.

The only solution I can come up with right now would be to either delete both of those $75.00 ones in your screenshot or edit the expired one and remove the expiration date. Unless you have another idea.
I have too many credits in different stages to manually track and remove them. That's an unworkable solution, unfortunately.

The $setup['no_expired_print_credits'] = true; was working until recently, until we started running into the above issue.

Could you write a script that compares the expiration date of each credit to today's date, and if credit exp date < today's date, set the value of the credit to $0, and have it not display on the front end? In the admin, I'd still want to be able to see how much the credit was worth when active, but for calculation purposes if a credit is expired its value would be set to 0.
Adding the $setup['no_expired_print_credits'] = true; basically does the same thing as setting the value to 0.

The problem comes in when someone has an expired credit that they didn't use.

What might work is me writing some code to look for expired credits in accounts and check to see if a credit was used, and if not, setting the value to 0 of the expired unused credit. Basically, like the scenario in the screenshot in your first post. What do you think?


Yes, that should work perfectly as described for my purposes. Ideally, I'd still want to be able to see how much the credit was worth when valid, even if its mathematical value in it's expired state is $0. And if I took a credit that expired yesterday for example, and set it to expire a week from now (made it a present credit again), I'd want the client to be able to use the credit at its value until it expires again, if that makes sense.

Could you let me know when a solution is ready? Thanks!
Thank you! I don't mind doing the FTP, would you be able to email me the file? Otherwise I'll provide the info needed.

Loading more pages