Multiple Shooting Spaces
I'm working on utilizing the calendar for our next senior season starting in May. My question for you, my studio has two areas for photo taking, we normally have two 30 minute sessions and one 1 hour session in the same hour time block. How can I set up the calendar to allow up to 3 appointments in one hour?

I've set it up to the best of my knowledge but, I'm not sure if it will work. It appears that I lose my 1-hour session if a 30-minute session is booked and vice versa.
Okay, each of my shooting areas can only accommodate one session per time slot. I'm afraid if I set my 1-hour sessions to 2 per time slot, I'll get two 1-hour sessions in the one-time slot. I can only do 1 of each service in each time slot. It's like I need two calendars, one with half our services and another with one-hour services. Is there any way to set it up to allow for this?
I had thought you meant to accept 2 appointments for the same time (like if having 2 photographers). Wouldn't just setting the time blocks in the settings to 30 minutes (meaning someone can book at 1:00, 1:30, 2:00, etc...) work?

If someone were to book a 30 minute session at 1:00, the 1:30 time would be available for 1 hour or 30 minutes.
I have a mini studio that can only accommodate one 30 minute session at a time. I have a main studio that accommodates our 1-hour sessions, 1 per hour. My mini studio can have a 9 am appointment at the same time that my main studio can have a 9 am appointment but, the calendar is set up so that if my main studio is selected, my mini studio is no longer available. I'm not sure how to set up the calendar to allow for one 1 hour session while still having two 30 minute sessions available. See photo if it helps what I'm trying to accomplish.
Thanks,
Beth
Attached Photos
---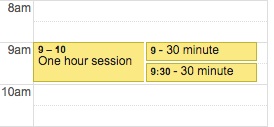 Loading more pages