Product List Differences Showing Product Differently
See uploaded image...why are the Sticker Sheets showing differently from the other products? As far as I can tell I don't have any settings different. Specifically why the Qty box and the Cart thumbnail vs the ">" symbol?
Edited Thu Nov 09, 17 5:15 AM by Ross Crum
Oops...forgot to upload the image...
Attached Photos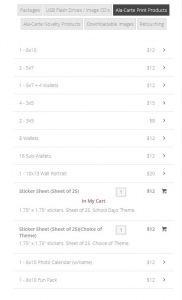 Found another issue with the sticker sheets...See attached...says "In My Cart" but the cart is empty.
Attached Photos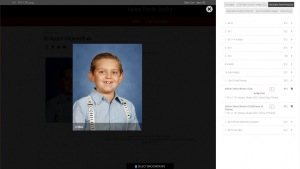 Shopping cart screen shot showing empty.
Attached Photos

The ones in bold in the price list, you can add to cart right there. The others you click to view the product, options if available, and photo cropping if available.

When editing products in Photo Products -> Product base, there is the option to collapse options. You can check that option so they all look the same (not bold).

Also at the bottom of Photo Products -> Produce Base, there is the option for "Collapse All Product Options & Descriptions".

For the cart being empty, I would need to see it in action. Post or email me a link to a gallery with password if needed, and if there is a specific product doing that, let me know which one.


Loading more pages