Error While Uploading Images
I receive this error every time I upload images to my website. It is starting to get old. I am only uploading 20-30 4x6 @ 100 DPI images at a time. I am on 100 up and 100 down Internet, so I know my internet is not the issue. This has happened since the first day I started my website with Sytist.

Has anyone else received this error? What did you do to fix it?
Attached Photos
---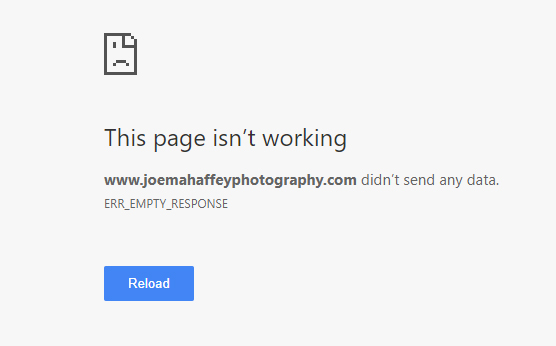 It only happens when uploading images. the average MB per image is 300MB and I only upload 4x6 @ 100 DPI images. I included a photo of what is shown inn the address bar when this happens. I have mentioned this to you a few times before Tim. I have talked to my internet provider and they have done tests with all results coming back good. I have also talked with GoDaddy, they have told me I have no issues on their end. All I know is time is money. When I have customers waiting for me to upload their gallery and this error pops up many times, I have to wait until the page refreshes to start where I left off. It shouldn't take 45 minutes to upload 300 images! When my time gets wasted, I get frustrated.





It looks like you have a lot of failed uploads by the link in the address bar which is probably making the URL really long causing the screen you see after they finish uploading.

I have seen where people have issues uploading photos when hosting at godaddy because of a I/O error (input/output error). You might see the error in the uploader when they are uploading. Seems to be hit and miss at godaddy with that error, some get it, others don't.

I would suggest seeing if godaddy can move your hosting account to another server or investigate the I/O error. It could be limits set on that server.
Tim,

I have talked to GoDaddy. I explained the issues I was having and what you recommended to talk to them about. I am considering moving my hosting services with them to business hosting, which will be more like having a dedicated server of my own. They recommended using an FTP service to upload my images to my website and mentioned Filezilla. Is this compatible with Sytist/PicturesPro or is there another FTP service you would recommend? I would like a prompt response from you, if possible, as I am talking with GoDaddy again at 4 PM CST Wednesday about switching to the business hosting.

Joe
Joe,

I had the exact same issue a couple of weeks ago.

We had been running fine since February prior to that.

I would be interested to know if you have solved the issue.

I went the FTP route and it has worked so far...
I use Filezilla client to upload to our sy-upload folder at Godaddy.

I normally use Hostgator for all of my projects, but this one started out a little differently.

I will migrate Sytist from Godaddy to Hostgator in our slow season after the first of the year.

I use 4x6 @ 100 dpi when I upload to my website.

Thanks for the information on using FTP, Tim. I am redoing my website right now and that includes using a less invasive watermark for a more professional look. I am also considering charging $5 for customers to view my galleries and offer that back as a discount if they order.
Update for what it is worth.

I have utilized Earthlink's Web Disk feature instead of an FTP client to upload images.
It's a little slower, but it has its place.

Loading more pages