Downloads Are Ready Email Link Not Working
When my clients receive the Downloads are ready email, the link and password are not showing up. Instead, all they get is the code. Am I not doing something I need to do here?
Here is a screen shot of what my client received. I tested it and got the same thing and so did another client. I am sending this email from the galleries > people area.

Thanks
Attached Photos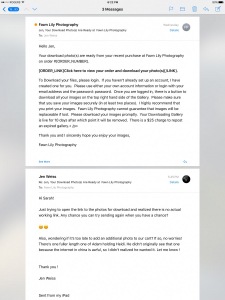 I think maybe you aren't sending the email from the right place, so it isn't replacing the codes. You should view the order in the admin, click the Manage Photos tab, and click the link above the photos that says "Send email to notify photos are ready to download (info@email.address)."

Loading more pages