Changing From Full Sytist Site To Just Sales
Hi Tim

ive been using Sytist as my full site, but now would like to just use it for the photo sales site, as I'm thinking of doing the front end etc with wordpress so that I can do more with SEO.

Is it possible to take my full site and move it to a subdirectory and just use the sales section?

Thanks

Allan
What does Wordpress have SEO wise that Sytist doesn't?
One of the main things is not being able to keyword photos for SEO.
I do also struggle with the blog elements
I use a program called ACDSee Pro 10 to keyword and copyright images in the image metadata prior to upload.
I haven't looked at Wordpress recently... I am SEO conscience and knowledgeable.
Sytist equals or exceeds the proper SEO requirements.
Edited Sun Aug 20, 17 5:51 PM by M Davis
I finally plucked up the courage to try this and try to move sytist into a sub folder.
I created a directory called clients from my home, and moved all the sy- files along with index.php to this folder. Then I added the line to sy-config.php, see uploaded jpg
I went to
www.kelticrose.co.uk/clients
and the site appeared, but if i then clicked reviews or photos I got an error. It looks to be going to the right webpage eg kelticrose.co.uk/clients/photos....
Have i missed a step out, do I need to do something in the backend of sytist?
EDIT - I've just had a flash of inspiration, ive not moved the folders that I've created through sytist like photos. Is there a way of finding which folders these are?
Thanks
Allan
Attached Photos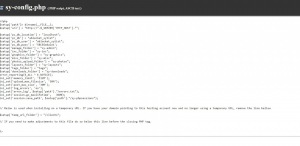 Edited Sun Oct 29, 17 5:55 PM by Allan Blackett

Loading more pages