Suggestions For Forms
I'm working on setting up forms for surveys and other feed back. Nothing showstopping, but I'd like to suggest a few ideas that might make this a little more flexible.
- Plain text form field type. This would allow you to break the form up into sections with some introductory text, white space or even an hr tag.
- For radio buttons, add an option to have them display vertically. Particularly on a smaller screen where the options wrap.
- Have the option to suppress the "*" for required fields. I'd rather have control of the whole line. I'd manually add the word (required) at the end or something.
Here's what I'm working on. I've attached an image showing how it lays out on the phone.
http://dev.timeframesphotography.com/dance-portrait-survey/dance-portrait-survey/
Thanks!
--DH
Attached Photos
---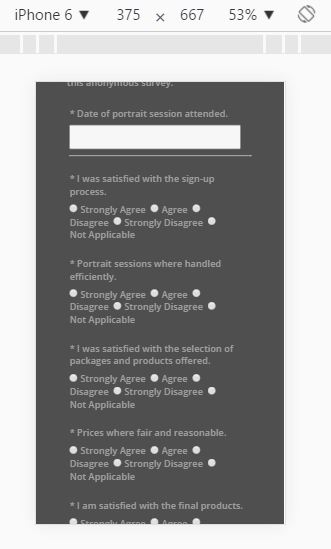 Loading more pages