Require Email Address Option
Hello Tim

This issue is regarding the Site Content > Edit Category area - under 'Require to View' - the option to Require Email Address.

Can this option be linked to the mailing list? For example, I have a page which requires the viewer to supply their email address and I would like to add them to the mailing list automatically - I have changed the page text of the 'Email Address' text box to state that is the purpose - can the requested functionality be added?

A great place would be when viewing the People > List > 'Emails collected to view' with the option to "Add to Mailing List" along with the existing option to "Remove".

Thanks, as always ;)
Edited Sat Jul 09, 16 5:16 PM by Dre
Tim,
Are these email addresses stored anywhere? I second Dre's request, but more than anything would like to know who is viewing and so I could follow up with that person personally. I can't find the list (if there is one).
Thanks,
Mark
Hello Mark, if you mean the Mailing List email address list, go to the People menu then the third option down is Mailing List [People>Mailing List]. There you will see three tabs for those who have Subscribed, whose Subscription is Pending (if you have double opt-in selected) and those who have Unsubscribed.
Best,
Dre
So when we collect their email, we arent able to see if they have anything in the shopping cart or see if they have ordered or not? Is that only an option if we require them to create an account (trying to avoid that, seems like an extra barrier and step that they might get frustrated with).
Forgive me for the delay - I know that this appears to be an old thread. Still... it is a followup.

I am trying to see the emails of the visitors to a page. On the gallery page, I can hit the "stats" button and I see all of the free downloads from today, along with IP addresses. I hit the IP address and there is no email listed. I do have the category set to require an email address. Can you tell me where that is stored so I can followup with folks from the free download?

Thanks,

Mark
Tim,

Sytist is super awesome, but I'm super bummed that there's an option to require an email addresses , but there's no way to track them. It would be nice to know who provided an email address and didn't purchase anything so that I can follow-up with them.

What are the options? I second the comment above that I don't want to force people to subscribe. Are there any 3rd party plugins that you recommend?



I have an existing category to require email to view. I checked marked just as the image above shows. It is not working. Is there another place I need to check for it to work?

It is not a gallery but a category section page.
Edited Fri Dec 08, 17 5:22 PM by M Davis
From the menu have 'require email address' selected...
> Site Content
> Category: Information
> Section Settings
> Require To View
> Require visitors to be logged in to view pages in this section.
Or
> Require Email Address

Then, when I go to the category Information the page named 'Estimating & Pricing' is not restricted to entering email first.
When I go to the page settings there is no menu to further 'require email address' to view the page.

I have it selected now, 'require email address' however, it is not working.

Edited Tue Apr 10, 18 7:25 PM by M Davis
There is not an option to require an email address to view a category. Only pages / galleries within the category.

I viewed the information page (which is a category) and when clicking on one of the pages, I am prompt to enter in my email address.
Attached Photos
---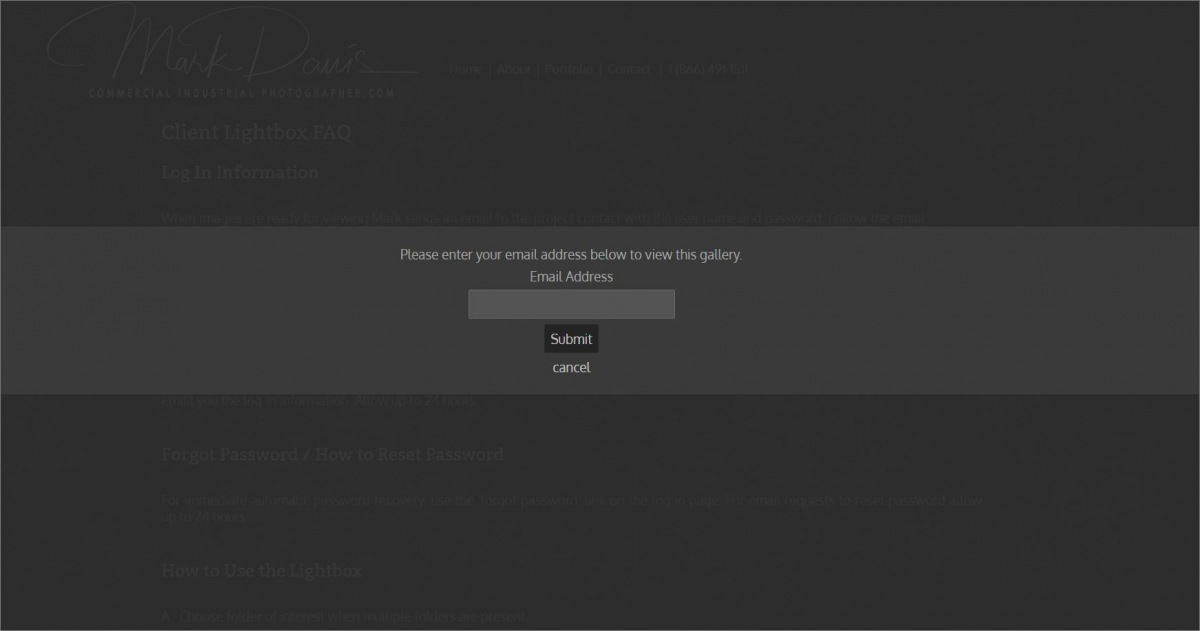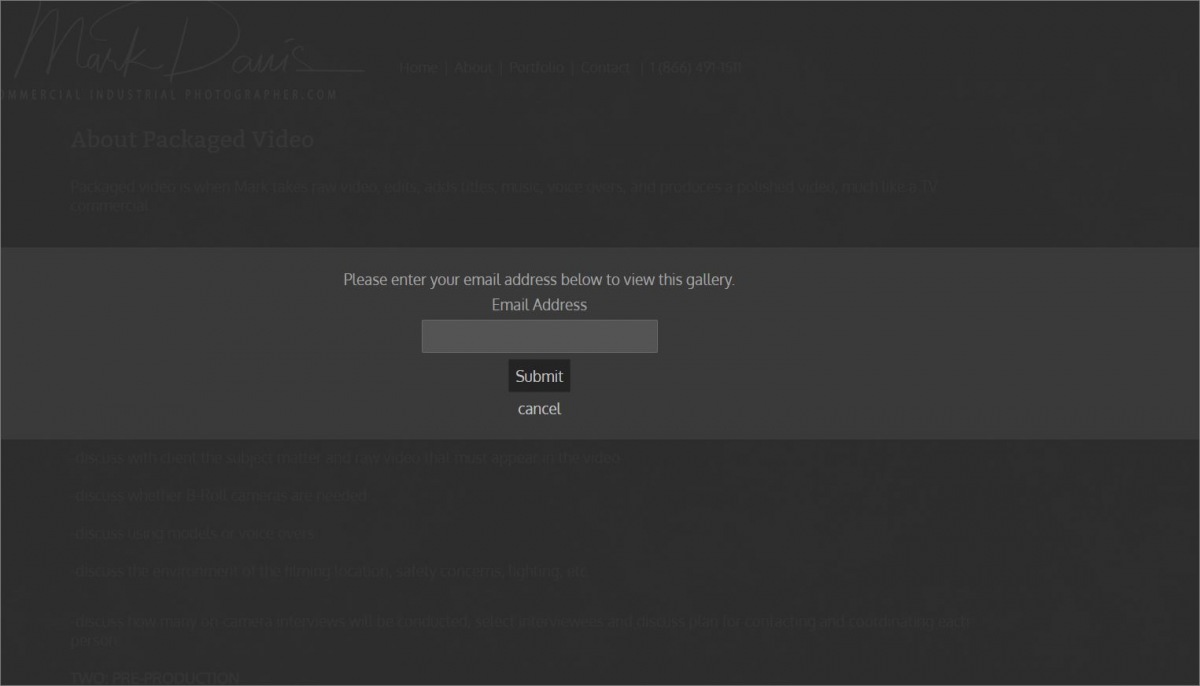 Tim, thank you. For some reason the 'require email address' did not show from my browser when viewing.

Loading more pages