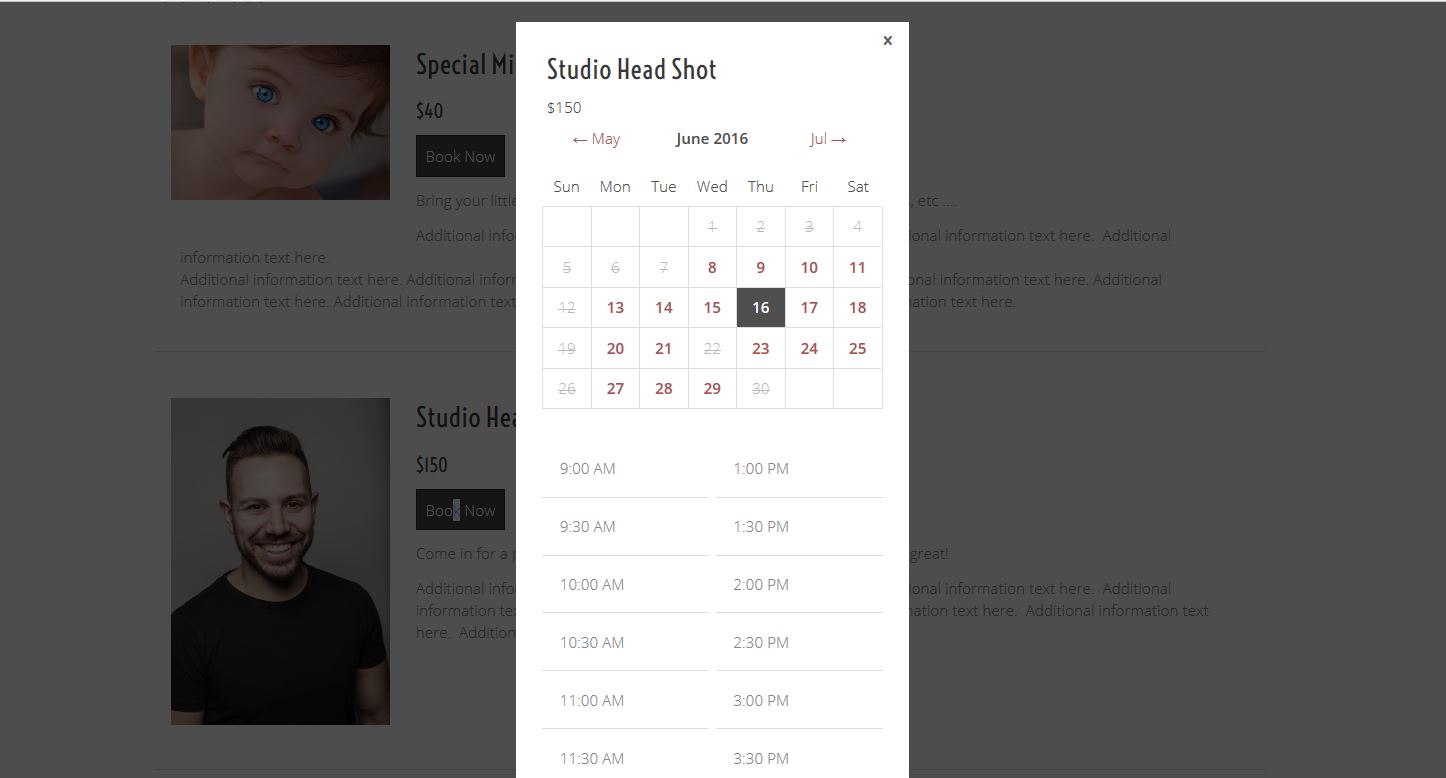 Click here for a video tutorial going over the calendar.

Starting with Sytist version 1.3 is the Calendar option. It can be used to keep track of events like sessions, birthdays of your customers, etc ... and also as a booking calendar for customers to book services on your website.

Article: Changing Booking Calendar Language & Time Format
Creating services for a Booking Calendar
First you will need to create a new section in the Site Content area and select Booking Calendar in the new section wizard. You will add a new service / page for each of the services you want to be available for booking. Then make a link in your main menu to the Booking Calendar Section and it will list out all the services available.
Booking Services Options

Price
The price of the service.

Deposit Percentage
The percentage of the price for the deposit amount if any. If the full amount is to be paid instead of a deposit amount, enter 100.

Require deposit when booking
Selecting this option, the customer will have to go through checkout and pay the deposit amount for the booking request to go through. Otherwise they will just fill out the information with not payment and you will receive a notification of the booking request.

Auto confirm with deposit
Selecting this option the booking request will automatically confirm and send out the confirmation email. Un-selected, the booking request will come in as unconfirmed until you confirm it.

Confirmation Email
The email sent to the customer when their booking is confirmed. Each service you add has it's own confirmation email.

Reminder Email
The email sent to the customer when you send a reminder for the booking.

Options
You can create options for the customer to select when selecting a booking. These options you can also add additional prices AND additional time for the booking. Example, create an option to have a professional make up artist and you can add an additional $75 and add an additional 1 hour to the booking time.

Length
How much time this service takes up. It isn't necessarily how long your service will last with the customer, but how long you need to allot for.

All Day Event
Selecting this option means if this service is booked, it takes up the whole day and nothing else can be booked on that day. Example if it is for a wedding and you need the whole day for the wedding.

Once Per Day Event
This option means that this service can only be selected once per day, but it doesn't book up the whole day. A good example if you offered a sunset photo shoot. It can only happen once a day.

Special 1 Day Event
This option is if you have a special event for one day and offer different time slots for the event. Example, have a day of mini sessions with the Easter Bunny or something like that that is only for that day. Nothing else can be booked on the same day as the special event.
You will need to select the start time and end time for the day and also set the Length option for how long each slot is.

Lead Time
How many days out from the current date for the service to be available. Example, set it to 1 and someone can book an appointment starting the following day. Set it to 2 and someone can book an appointment starting 2 days from the current date.
Custom Available Days
Starting with Sytist 1.4, you can set custom available days for each service that will override the available days in the booking calendar settings.


Booking Settings
You can access these settings by going to Calendar -> Booking Settings.

Available Days
These are the days & times you are available for booking. All day services means that the only thing can be booked on that day is a service marked as all day. Example, you only want weddings to be available for bookings on Saturdays and your wedding service is an all day event. You would mark Saturday as all day services only.

Unavailable Times
These are times throughout the day you are unavailable. Example, lunch from 12:30 - 1:30.
Adding booking to Google Calendar (starting with Sytist 2.1)
When viewing a booking in the calendar, there is a Add to Google Calendar link. This will open a new tab with your Google Calendar add event dialog populated with the booking information. From there, you can make any adjustments and save.
When you click that link, it will show a Google Calendar icon next to the booking entry. Note, this does not mean you actually saved it, just means you clicked it. So be sure you save in your Google Calendar.
This is not a full integration with Google Calendar, this is a convenient way to add the event to your calendar. So this means if you make any changes or cancel the booking in either calendar, it won't update the other.