You will still receive notifications of replies to topics you are part of even if you do not subscribe to new topic emails.
Feature Requests
Mon Aug 17, 15 5:34 AM
CST
Post feature requests in this thread only.
Tim Grissett, DIA - PicturesPro.com
My Email Address: info@picturespro.com
Mon Aug 17, 15 6:15 AM
CST
Hi Tim,

I'd like to be able to use multiple currencies, allowing the shopper to select their currency or use geo ip rules to set it for them.

I was thinking of installing a second sytist set for a second currency (installed in a different sub domain on the same primary domain. It would be a bit of a hassle to set up with the same products in two different databases but is something I'm seriously considering. Is there any discount for a second license to be used on the same domain?

Thanks,
Jim
Mon Aug 17, 15 8:36 AM
CST
when someone sends a request to access a gallery we get notification to allow them.. I don't like to screen these request because I never know who or what relationship they have with the client of the gallery... this is the reason the gallery is password protected...

Feature Request : be allowed to assign a email address to each gallery so that we can put the clients email there...... This way when a request comes in the Client / owner of the gallery will get the request and they can give them the password to their gallery or screen them. .. If no email in entered then the request can come to the admin. This way we don't have to ask the client if it is ok to allow access to their gallery.. This feature would be especially good for photographers who do boudoir photography ... I wouldn't want personal private images of my clients to get out especially in this type of photography... Plus I'm sure the clients would appreciate these kind of pics to get out either .... What do you think?
Edited Mon Aug 17, 15 8:39 AM by Rolando Rivera
Mon Aug 17, 15 1:25 PM
CST
Sytist has many great features.
But I miss 2 core functionalities for selling images, that are essential for us:

- building hierarchical-structures to sell (licenses) of images
- a good search functionality over ALL photos

best
Erik
Mon Aug 17, 15 3:13 PM
CST
I am using this as my main sales tool now! some way of getting reports and sales .

trying to go through order now to find out who hasn't ordered on an event and it is really hard when you can't filter the list in any way.

Thanks
Mon Aug 17, 15 3:37 PM
CST
Similar to the above, I would like to get a sales report per gallery. I need to know how well each event sells,
Mon Aug 17, 15 3:45 PM
CST
Its been mentioned before but I would like the following discount and promotional offers added ...
1. . Buy n get 1 free. For some prints we do an offer of buy two get one free, so the option of offering being add this as a discount option would be useful. The customer could not add it unless the condition had been met, or if we set up , for example, buy 2 get 1 free, every 3rd one is automatically priced at zero (or an offer price)

2. Free gift. We offer a free gift for orders over a certain value. An option to prevent an item (free or otherwise) being added unless the basket total >= ?x would be great

3. A variation on tiered pricing such that additional items could be offered a a reduced rate. Eg The first print is ?15, the all additional ones are ?10 or 1 is ?15, 2-10 are ?10 each, 11 and up are ?5 each.
Edited Mon Aug 17, 15 3:51 PM by David King
Michael Leenheer
478 posts
Mon Aug 17, 15 3:50 PM
CST
A similar idea to David's #2 item: I would like to be able to offer an Early Bird special which is a free ITEM rather than a discount.

Ideally this would be a photo item from our price list (or store) which would then ask them to choose a photo when they've reached the minimum purchase - sort of like incomplete packages do.
Mon Aug 17, 15 4:01 PM
CST
Arron Robles, Solutions Designer | APVisions.com | Robles365.com
Michael Leenheer
478 posts
Mon Aug 17, 15 4:27 PM
CST
Maybe a forum feature would be handy too: The ability to "upvote" someone else's suggestions :-)
Tue Aug 18, 15 10:27 AM
CST
Copy an Option to different items in Store or Buy pages.

Thanks.
Tue Aug 18, 15 10:33 AM
CST
Tue Aug 18, 15 5:40 PM
CST
Tim,

I think Sytist is a great tool for what I have paid for it, but if I could have more I will always manage to find something else to ask for

1. I need to be able to sell watermarked and un-watermarked versions from the website for immediate fulfillment of digital images *Critical*

2. For me the sales total is after discount, currently reading stats is misleading - maybe an option so we can choose? *Critical*

3. I would like to have total sales figures with each gallery just like Photocart - gives me full oversight of good and bad jobs *Critical*

4. Default splash pages (multiple pages) i.e. for each category I could have a different splash page. *Medium priority*

5. Bulk email control, i.e. my web server will only allow 100 emails an hour so it is difficult to email all those that have viewed a gallery *Low priority*

6. Discounts / Coupons valid against a particular product *Medium priority*

7. In Photocart I could see a stat for total images uploaded to the gallery. *Low priority*

8. The possibility to email all those with active shopping carts over a date range i.e. not email those already emailed *Low priority*

9. Paid for discounted price list i.e. customer pays a fee for 12 months on VIP price list *Needs customer research first*

10. A way to bulk add to paid for access galleries *Medium priority*

I know that my request for some features may be unique, for others not possible, but then there are the others. You can not develop all of what everybody wants but maybe if there was a poll here for most sought after features you could target your efforts to the most popular.

Many thanks for all the help and support over the years


Michael Leenheer
478 posts
Tue Aug 18, 15 7:22 PM
CST
Michael Leenheer
478 posts
Tue Aug 18, 15 9:37 PM
CST
To David King & Michael Weeks: You can get some statistics of how much was sold from a gallery already - when viewing the gallery in admin, click "Stats".
Wed Aug 19, 15 11:05 AM
CST
@Michael L; yes but, unless I'm missing something, those stats are for the last 30 days only.


Edited Thu Aug 20, 15 4:37 AM by David King
Alicia Williams
191 posts
Wed Aug 19, 15 9:58 PM
CST
Have an option for downloads to have it be "completed" without having to upload the files. I use dropbox instead of your system because i want to be able to upload and change files on the fly.

I am not sure how you can do it but I'm looking for a tick box that says "Upload override- redirect to url for download" or something like that

Where I can plug in their dropbox file and they can manage it.


Edited Wed Aug 19, 15 9:59 PM by Alicia Williams
Thu Aug 20, 15 12:12 AM
CST
I like the reports the way the Photocart does them. I miss that.

It would be great to do an invoice for Orders that had tax for June-Dec and have it show just those orders, to pay state salestax.

Another feature that might be a bit obscure, but would ROCK would be to have files labeled with a 2 or 3 letter code at the end as we do them at events, with the photographer's initials. Then to have the site create a report showing how much of a certain photographer's photos sold from a specific event. I use a viewing software on site at events and that one feature saves me hours and hours of post event calculations.

Thu Aug 20, 15 2:25 AM
CST
My two penneth (it would have been three but you added in the default text for galleries this time around - yay!)

1. I would like the gallery price to reflect an early bird offer rather than showing the standard price.

Some clients dont listen to us and dont read the information we send - they look at our standard price and declare we are too expensive. If the early bird rate was shown instead we would sell more

ie - if I sell something as standard for ?100 but offer 25% off with an early purchase - I would like the price to reflect this and say ?75 until the early bird expires and then revert back to the standard price.

2. I would love a system for a 'champion product' that highlights something that is the best deal ever - I know pop up boxes can cause issues but if when they log in they get presented with a reminder of this special with a link to add it to the basket that would be great

Thanks in advance
Pete
Thu Aug 20, 15 5:13 AM
CST
I knew there was another.

recent Shares is wasted on me as I have sharing turned off but something that is nearly important as Orders for me is the status of the Montage Proofs that I have placed for customers. If the status of those could be on my Admin page that would be great and bin the Shares.

Mike
Edited Fri Aug 21, 15 12:27 PM by Michael Weeks
Michael Leenheer
478 posts
Fri Aug 21, 15 12:25 PM
CST
An all-powerful search box.

Please set up the main "Admin" search box to look through everything site-wide: tags, gallery names, clients, and orders. It would be so useful to be able to see all our points of contact with someone from a search like that.

It is at times frustrating to have to open a drop-down menu (People, or Orders) and try to click in the search box and type something because if the mouse slides the whole thing vanishes.

EDIT: the search box also doesn't search partial text, which can be frustrating. If I tag something in the plural (composites) and search for the singular (composite) I get no search results. I don't think that's a big coding change but it would be a huge improvement in the usability of the search tools.
Edited Fri Aug 28, 15 12:04 PM by Michael Leenheer
Sat Aug 22, 15 10:35 AM
CST
Can there be a feature where we can add photos to any gallery by means of automated process like folder sync , like Drop Box.
That way , if i add a photo to a certain folder in drop box, it automatically gets added instantly to the gallery.
G33K
Sat Aug 22, 15 11:15 AM
CST
Is there a way to either:

1. Allow people to see the pricing, but then prompt that you must be logged in to add items to your cart when they attempt to add the items to their cart.
or
2. Place the "you must login to view options and add purchases to your cart to alongside the photo (like the cart options are when they are logged in) rather than the little message in the upper right corner?

I am finding customers are not seeing and I kept getting calls asking how to purchase this so I had to change back to password protecting the sections; which in turn has caused a bunch of unnecessary accounts from extended family.

Sat Aug 22, 15 11:19 AM
CST
I know we have a "must buy from this category" before buying from others, is there a way to extend that so that you can make only a specific category linked to that category. Example, can buy print collections, canvas, metal, but cannot buy digital images until you purchase from the prints collection. Or cannot buy from a specific category until you have a minimum of $xxx in purchases? Example: spend $xxx and then be able to add products from this category.
Edited Sat Aug 22, 15 11:19 AM by Ryan O
Sat Aug 22, 15 11:28 AM
CST
Tim been very happy with the product as well as your support when we have issues!!

1. What we would like to see added is a way to have different logos for different events. Figure we handle a lot of sporting events where we have different sponsors, if we could streamline the logo addition when importing/offering free/logo downloads it would be great!!

2. A way to have the watermark separate from the actual image. That way if we accidentally checked the watermark or didn't check it we wouldn't have to upload and process them all over again!

3. Coupons specific to products, figure we like to offer different coupons, but not being able to limit where it can be used doesn't help!! I understand you can have products that do not apply coupon or discount but that doesn't help us!!

4. On the back end a way to edit the mobile version in the template, figure some things just don't look right in mobile.

5. Also a better way to track tax and sales. Which looks like it was requested before would be a better way for sales statistics. Some I am very happy with what you have so far, but there are a few things missing!!

Thanks for everything you have done this is a great product!!


One more thing that I just realized while editing a few pages. A way to disable the caption being shown on slideshows. So maybe a checkbox that enable/disables it in the gallery? Would hate to remove captions that will help with SEO if we don't want them viewed with the photos. Thanks!
Edited Sat Aug 22, 15 12:14 PM by Geoffrey Bolte
Sat Aug 22, 15 3:47 PM
CST
1. I would love the option to have an automated "Your gallery is expiring soon" email that we could set to send automatically 24 hours before gallery expiration to any email that has logged in to view the gallery.

2. I really, really miss the "add to package" option from the thumbnail view. It is much easier for clients to add a set of 15 digital files, then pop back out to thumbnail view and click the icon to add image to package. The way it is now they have to click into each image and choose...it's clunky, especially if a client doesn't want to choose those 15 files right at that moment.

Thanks for considering.
Alicia Williams
191 posts
Sat Aug 22, 15 10:11 PM
CST
I would love a file from all gallerie orders, so I can pull together the files automatically on my end.

On my old cart they had a program where a file downloaded and I pulled it into PS and it automatically pulled the files from the gallery for me, and I just uploaded them.

It saved HOURS of my life pulling one file at a time to order.


Sun Aug 23, 15 4:06 AM
CST
Hi

I wish there was an option for adding png's of different framings as preview overlay for my prints. It would help my customers to find the right framing for theire picture.
Sun Aug 23, 15 2:10 PM
CST
Hi Tim,

2 more requests:

1. I know that clients can add collection options when selecting the collection, is there a way to add or remove those options after they have added everything to their cart. I often find that clients want to add or remove options (changed their minds) and then get frustrated if they have to start all over.

2. A continuation of the first. I find clients want to upgrade their collection and get frustrated when they have to start over. Is there a way to allow collection upgrading. Example they upgrade and if the same products are listed in the upgrade it keeps them in the cart as part of the new upgraded collection, only removing or adding a warning red triangle etc. if that item is not part of the larger collection?

Ryan
Tue Aug 25, 15 2:04 PM
CST
Love the system in general. Just a few add ons I would love to have.

1. I would love an add on to the form detail...even if it was an extra option we paid for so that the forms could be more detailed and include signatures like machform. I hate having to add all session fees from my machform sign ups manually into sytist and having an additional software is just a pain. I would love a machform-like feature we could use.
2. I miss the orders having a count of how many pictures purchased and how many prints on them. It was very handy for double checking orders before being made with the lab.
3. I would love an automatic expiring gallery notice that would be sent out 1 - 2 days before the gallery expires. If forget to do this myself at times if it is a busy week.

Tue Aug 25, 15 2:20 PM
CST
To expand on Usula's request 3. Auto notifications for gallery expiring and also for early bird expiring.


Alicia Williams
191 posts
Tue Aug 25, 15 11:23 PM
CST
allow more than 999 photos to be uploaded at a time. I have a wedding with 1300 and I exceeded the limit for upload :( I resize them too.

Wed Aug 26, 15 4:43 AM
CST
Be able to include some shop items, such as personalised keyrings, mugs etc that require prints in the price list that appears alongside the print. Rather than expect the user to go to the shop, add the product and then go to the gallery to choose the images. It would be much simpler if the item appeared alongside the images. with the other purchase options.
Wed Aug 26, 15 4:50 PM
CST
Wed Aug 26, 15 5:48 PM
CST
I would like to add a vote for Eric's second and third request, both would increase revenue for us photographers and timely orders. Sytist completely blows photocart out of the water and I look forward to seeing the direction you take with it Tim. I would also like to add that I love that you actually care and listen to what we can use to make this the best tool for us!
Fri Aug 28, 15 5:55 PM
CST
Adding reports for galleries, this has taken up the most amount of time besides fulfillment, using the excel sheet to sort orders for shipping. The work around I've used is creating a custom shipping option for each event and sorting by that, but it's still a pain.

Lab integration would be huge!! Would definitely be willing to pay for that, but understand that might be difficult with a self-hosted website.
Sat Aug 29, 15 5:14 AM
CST
Hi Tim

I have a section on my website where I want to be able to charge individuals to view each gallery.
I cannot see this working unless I keep the price low and offer an incentive.
Is there any way I can, lets keep this simple, charge ?1 to view the album and issue a credit for this.
Then when they have viewed three albums, and have three credits be able to get a free (3 credit) download?

I don't think there is any way of doing this on the current version?

Sat Aug 29, 15 11:58 AM
CST
this may be a reach but maybe a feature added to the account creation so someone can join a mailchimp mailing list when they create their account to receive special offers?

Tim Foster
Sun Aug 30, 15 1:11 PM
CST
Collection image notes would be of great use, is there a way to add this in, they seem to work on individual images, but not for collections or collection images? I added a notes section (which is a temporary fix), however they are not able to edit or add their notes after adding an item even when viewing their cart.
Edited Mon Aug 31, 15 1:26 PM by Ryan O
Wed Sep 02, 15 2:47 PM
CST
Sat Sep 05, 15 2:52 AM
CST
I have a project proofing section set up and the annoying thing is that I can not close the project from the proofing section, I have to go in to the project and close. Yes I know it is only 1 further mouse click but it is one that I would rather not be doing

Mike
A
Alexander Fischer
7 posts
Tue Sep 08, 15 2:36 AM
CST
Hello there,
I have the following requests / suggestions:

a.) At the moment I still use another photographer system in which you can let generate QR codes, which are then subsequently printed as a card and include the access code for future gallery (the codes are stored in the background). If you then, for example, photographing a kindergarten, the child is first photographed with the QR Code and then the child, then the next with the QR Code and so on. The group shots have no QR Code and are visible to all in the folder and all other photos are organized so that I can upload all the photographs of the children at a time and getting the photos after the QR Code to get the parents of each gallery display. I hope I could explain it understandable.

b.) It would be great if you could create coupon codes that are avoidable only certain your categories. I would for example like to do action where I give a discount of X on canvas screens, this may however be applied only in this category werden.Oder I sell Birth cards through the shop, and here it might give X% but only there. Of course it would be great if the customer buys in much upselling and all vouchers may be used as long as it has a product from each category.

c the dispatch of automatic reminder emails when the galleries expire.).

Alex
Wed Sep 09, 15 8:26 PM
CST
Here are a couple of feature requests:

1. From each client gallery I would love to be able to export a summary of images ordered, options (b+w, borders & finish etc.), sizes and notes etc. without client information, into an excel or CSV file. This would be great with just the image number and not the gallery location so as to be able to import it into Lightroom.
2. I would love to have the option for the images to be uploaded and initially filtered or viewed as black and white images.
3. I would like to see a filter option on the Order tab to be able to sort by each client gallery or at least view each client galleries orders independently.
4. Multiple select and move images in the 'photo display order' in the galleries

Many thanks

Simon
Edited Wed Sep 09, 15 10:14 PM by Simon Elwell
Sitist and Pictures Pro User.
Wellington
New Zealand
Thu Sep 10, 15 5:05 AM
CST
I can't embed an external link in a Section Preview but I can in a Page (Content) Preview.

Featured Sections & Featured Content previews present themselves differently (Content under Sections) on the home page and may present a jumbled appearance when both are used.

My request is to either allow external links in Sections or allow Featured Sections and Featured Content to show seamlessly (beside each other) on the Homepage.


Attached Photos
---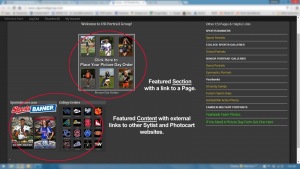 Alicia Williams
191 posts
Sun Sep 13, 15 11:12 PM
CST
Allow your order form (UNDER ORDERS ON THE CART) to say at the top above the images "Downloads, PRINTS, AND # of Images"

I get so confused when it says "8 prints" on my order, but I have 7 images and 8 prints in my cart. When someone orders a photo more than once its hard to keep track and each time i have to go back and triple check someone ordered something twice.

I have uploaded photos of what my cart shows me and what your invoice shows me.


Attached Photos
---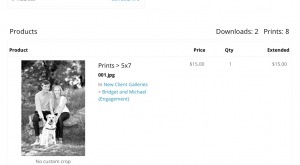 Edited Sun Sep 13, 15 11:14 PM by Alicia Williams
Mon Sep 14, 15 4:19 PM
CST
Reports

Currently the reports are based around the calendar year but most of us have will have different accounting years and it might be nice to be able to set that as the default

Mike
Tue Sep 15, 15 5:32 PM
CST
1. Privacy Option: a client can opt for certain photos to be private (often times they don't share with family because there are a couple photos they don't like).

2. Coupon codes for specific items-- I know this has been mentioned, just seconding my vote.


Wed Sep 16, 15 2:29 PM
CST
Tim thought of something today.

Would love to be able to do a recurring payment/subscription package type deal. Where it is automated. I know stripe can handle it, can you institute it into Sytist? Figure we have a few clients that pay monthly/quarterly. Also would allow us to offer a payment plan on some of our larger packages. Thanks!
Sat Sep 19, 15 4:22 AM
CST
Hi Tim,

Thanks for the creating this thread. Will add the suggestions to here as and when I have any:

1. To display BUY ALL as a single item in the invoice instead of displaying all the images.
2. When sending email from client gallery, the current default is turn on for people who have access to the page etc... it will be good to set the default off so that we don't accidentally send out messages to people unnecessary.

Edited Sat Sep 19, 15 11:32 PM by Yew Kwang Lim
846 total messages
Topic Closed.
This post has been viewed 67,809 times

Loading more pages