Sytist 4.3 Update Now Available
View detailed information about this update in the changelog here.
Some of the things included in this update:  


Gallery specific coupons where discounts can only be applied to a certain gallery.


Free Shipping options to coupons (which can also be gallery specific).


Added Free Shipping options to Early Bird Discounts


Added Prep / Travel Time to the booking calendar services. This is the amount of time to block off from the booking calendar BEFORE the appointment.


Added the option to export expenses in the Reports section 


Added sales total to the Stats & Sales menu tab in the pages / galleries in the admin.


And more.
View the change log here.
How to update
:
The first time each day you log into the admin it will check for the update. If you have already logged into your admin today, then you won't get the notice until tomorrow.
Edited Mon Nov 14, 22 5:51 AM by Tim - PicturesPro.com
Where did the search gallery function go?
I see now. It is there but hidden because you are just viewing sub galleries. If you click on a sub gallery to view photos you will see the search icon.

But it should be showing though even without the photos. I'll have a follow-up update this week. I'm sure something else will come up.
Thank you Tim for the awesome update. We ask a lot of you. I am just wondering on the gallery specific coupon if it would be possible to do that for the entire category, I.E Senior portraits and then that is where i list all the senior portrait galleries. I can see why you just made it for galleries only and this will work just great. Thanks again Tim.
Can't get the free shipping to work. See photo of coupon creation below. I was trying to offer free shipping on any order greater than $200. When you checkout and add the coupon code it removes the shipping fee on the left, but when you advance to shipping options it adds it back to the total even tho the coupon code is still in the order.
Also if I try to set up any free shipping with a dollar amount, I get this error: MYSQL ERROR: You have an error in your SQL syntax; check the manual that corresponds to your MySQL server version for the right syntax to use near '1'' at line 1 .
Thanks.
Attached Photos
---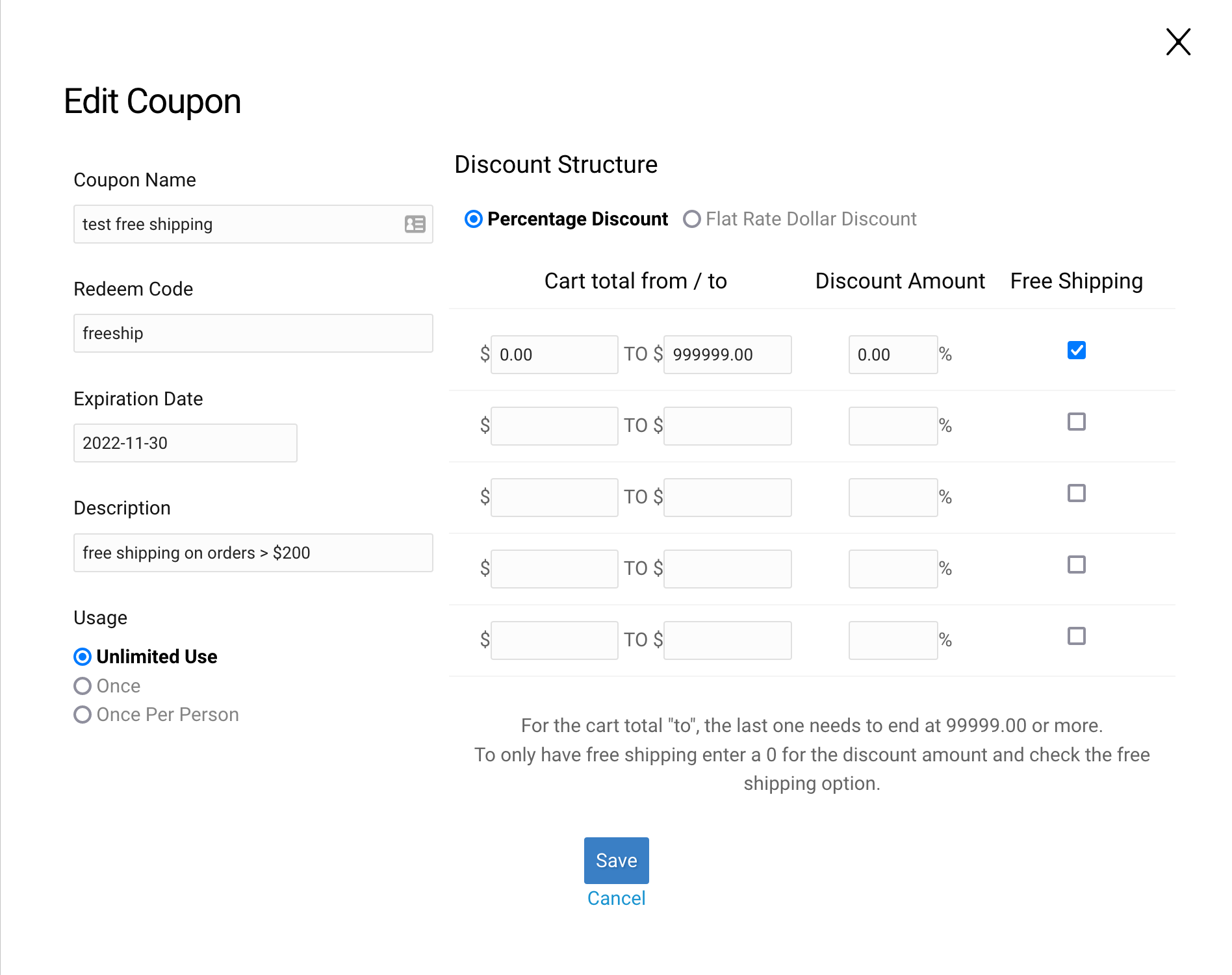 Is there a roadmap available to see what future updates to sytist may include over the next 12-24 months ?
MICHAEL CYRA - both resolved with the 4.3.1 update released this morning.
https://www.picturespro.com/sytist-manual/change-log/
michael milner - there is not.
If you don't have an update notice on your admin homepage you can click Settings in the main menu then UNDERNEATH the left menu click check for update.
after 2 years of unhelpful updates to my "live sporting events" sector (supporting immediate on-the-spot printing), where I haven't found a useful entry other than for schools, weddings, in-store bookings, I've logged in update hoping and investing in support of large future upgrades in different directions.
Sytist today has wide margins for upgrades in the real-time events sector, IT IS NOT A CRITICALITY BUT A STIMULUS TO SEE BEYOND.
By now schools, weddings, shops we are making refinements, bugfixes while substantial upgrades are needed
Edited Thu Nov 24, 22 8:58 AM by Marco B

Loading more pages