Image Visible On Pc But Not On Iphone
I have a page where parents are directed to to select their child's school and then click on that schools' logo to go to our online order site for that event. This year we have 3 new schools and we uploaded images for these 3 schools. The logos (buttons) for these 3 new schools are visible when the page is accessed through google but not when accessed through the Safari browser used on many iphones. I need to figure this out. Wierd thing is that even when accessing on my iphone, the buttons that I uploaded last year are all visible. It seems only to be the 3 new ones we added recently. I did also test using Safari on my ipad and the 3 new buttons are visible there. So, with the testing I have done, it seems to be a problem isolated to Safari on iphones. I do need to figure this out though since a high # of my buyers do have iphones and likely use Safari as their default browser. I just really do not know how to trouble shoot this. Any guidance would be greatly appreciated.
Edited Fri Sep 10, 21 2:16 PM by Lois Alberts
Definitely not a cache issue. I checked that. I have tried it on 5 different iphones and when using the Safari browser, get the same issue each time. Plus, my own iphone is brand spanking new as I just got it on Friday of last week. I am pretty sure it is a Safari issue. Just wondering if you might have some suggestion of what could cause that. I know you cannot support safari but perhaps you can look at my page internally and see if you see something in terms of spacing or sizing that could possibly cause such an issue. Or perhaps you can recommend someone that I can reach out to about this. This is a pretty big issue for me.
The one I have circled you can't see on your phone?

I looked trough the source code and those don't look any different from the others and can't see any reason why they would not be showing.

What if you create a different page and add them there, can you see those?
Attached Photos
---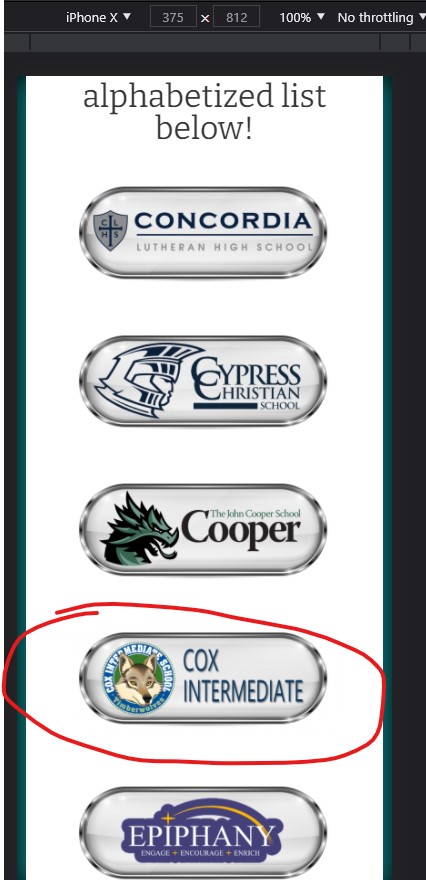 Do you mean . . . that I should create a whole new page. . . . like duplicate the original one, and see if they show up then? I am not sure what you are suggesting that I try. I will certainly try whatever you recommend, but would appreciate it you could explain a bit better what you are suggesting.
Got cha. I will work on that tomorrow. One more question for you though. If I do this and I see them on the new page, what does that tell me and what should I do after that to correct the situation. Eventually, I need to get them all visible on one page. Just thinking ahead.

Loading more pages