All Photos Section
I am unable to delete anything from my All Photos section. Is anyone else experiencing this? Is there a solution? I have resorted to deleting them from my cpanel directory but then when I go back into all photos I am left with a bunch of broken links. No mater how many times I try to delete them they just keep reappearing when i go back to or refresh the page. I have tried to do one image at a time and deleting them from the held images but nothing is working.
I replied to your email on this:


The photos in the All Photos section are photos uploaded to galleries. If you delete the photos there, it will delete them from the gallery.

I can not think of any reason why they would not delete. I just tested it on your site by :

Create a new gallery
Uploaded a photo to the gallery
When to the all photos section sorted by newest photos
Delete the photo I uploaded from the all photos section
Refreshed, it was deleted
Went back to the gallery I create and also deleted.

So it is working deleting from the All Photos section.
I also replied back. There are no galleries for these images anymore they are just hanging around the all photos section and i swear i have tried multiple times to delete them and the now broken links for images i deleted from my cPanel because i couldn't think of any other way to do it. They do not go away
It's because of in Settings -> Photo Settings you have "Do not delete photos that have been purchased as downloads" checked.

So those photos were purchased as a download. You would need to uncheck that option if you really want to delete them.
Attached Photos
---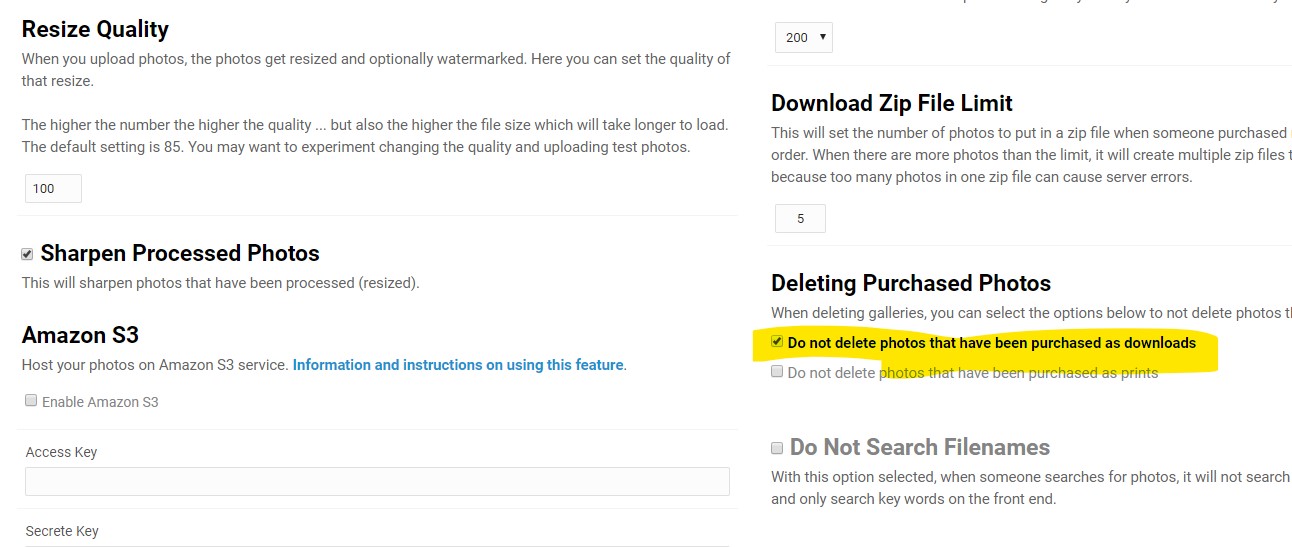 Loading more pages