Order Not Being Logged But Payment Being Taken.
Hey Tim.
Please urgently help.
My PayPal app on my phone has been happily 'pinging' all day long with print orders coming in...
But I have just logged into my site and to my horror, no new orders have been logged.
I have just checked my emails and I haven't been receiving the order emails either.
So now I have a load of PayPal notifications of people who have made an order and paid but I don't have a clue what they have ordered.
Please help me get my order information.
Regards
Lee
www.LeeCall.co.uk
Update...

I have checked my PayPal IPN and its saying 'Retrying' for all the missing orders.

My web host tech support is saying they havent changed anything on the server, I have asked them to check if they have blocked paypal's IP address. (waiting for a response)

Paypal is sending the IPN's to 'http://www.onlinepictureproof.com' is that correct ?


Hi Tim,

Thanks for your reply.

It worrying me that it is changed. I havent touched it.

Please can you tell me the URL that it should point to?

Many thanks

Lee

Have you started using onlinepictureproof.com ? That has nothing to do with Sytist and this isn't anything that would change on it's own.

Sytist sends the IPN information with the payment, so for it to send it to a completely different website/service, an IPN was probably set up in your paypal account. Go to the IPN settings in your paypal account and turn it OFF and remove any information that is in there. Since Sytist sends the IPN info, it can be set to off.
Thanks Tim.

I may have used onlinepictureproofs.com many many years ago when I was sampling different solutions before I came across Sytist. Seeing as though Sytist is the best thing since sliced bread, I have no intention of trying anything else.

So if I remove the info and turn off IPN, will I still get my old orders which are just hanging in limbo ?


Ok I disabled IPN in PayPal... I have just received another order and the problem still remains.

Paypal say its a hosting/website issue
My host says everything is working as it should with no PHP updates or firewall errors or blocked IP's

I'm at a loss... I have disabled IPN and now the latest entry to my IPN history just says status 'disabled' then a load from the last 2 days that say 'Retrying' then all the rest say 'Sent'
It is probably disabled now by PayPal for so many failed IPNs. That you will need to contact PayPal to verify.

You probably won't get your pending orders because it has the wrong IPN information. What you will have to do is compare the payments with the shopping carts which you can view in the admin.

If you click on the message ID, does the one that is disabled show it is going to your site or is it still the other site?
It shows it going to my site. But so did the 1st one to fail and all the other failed ones.. they all point to my site. It was only when I went in to the page where I could edit the IPN location is where it showed the other site.

I would seem that no matter what I put in the location section, it makes no difference to where it actually tries to send it.

Image 1 = The first order that errored.
Image 2 = The last order with IPN disabled
Attached Photos
---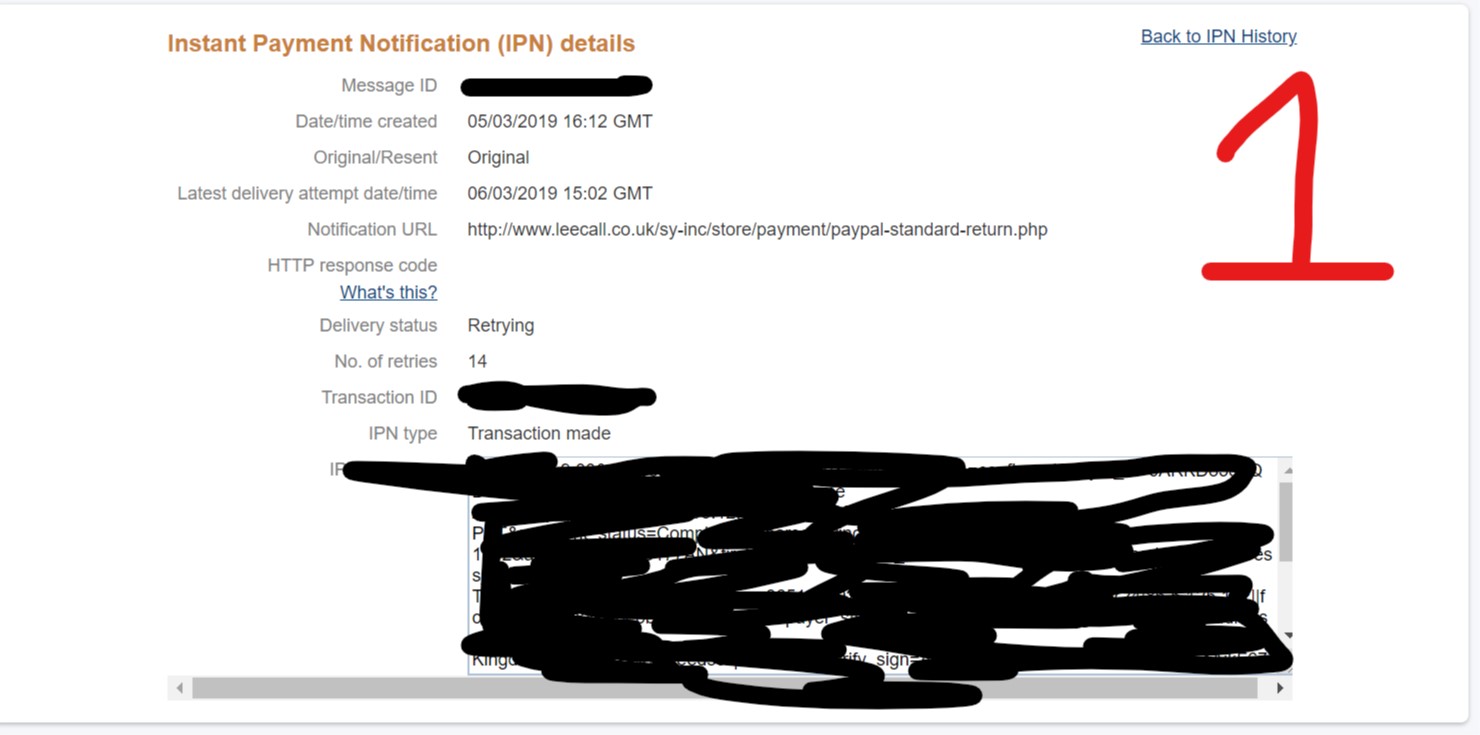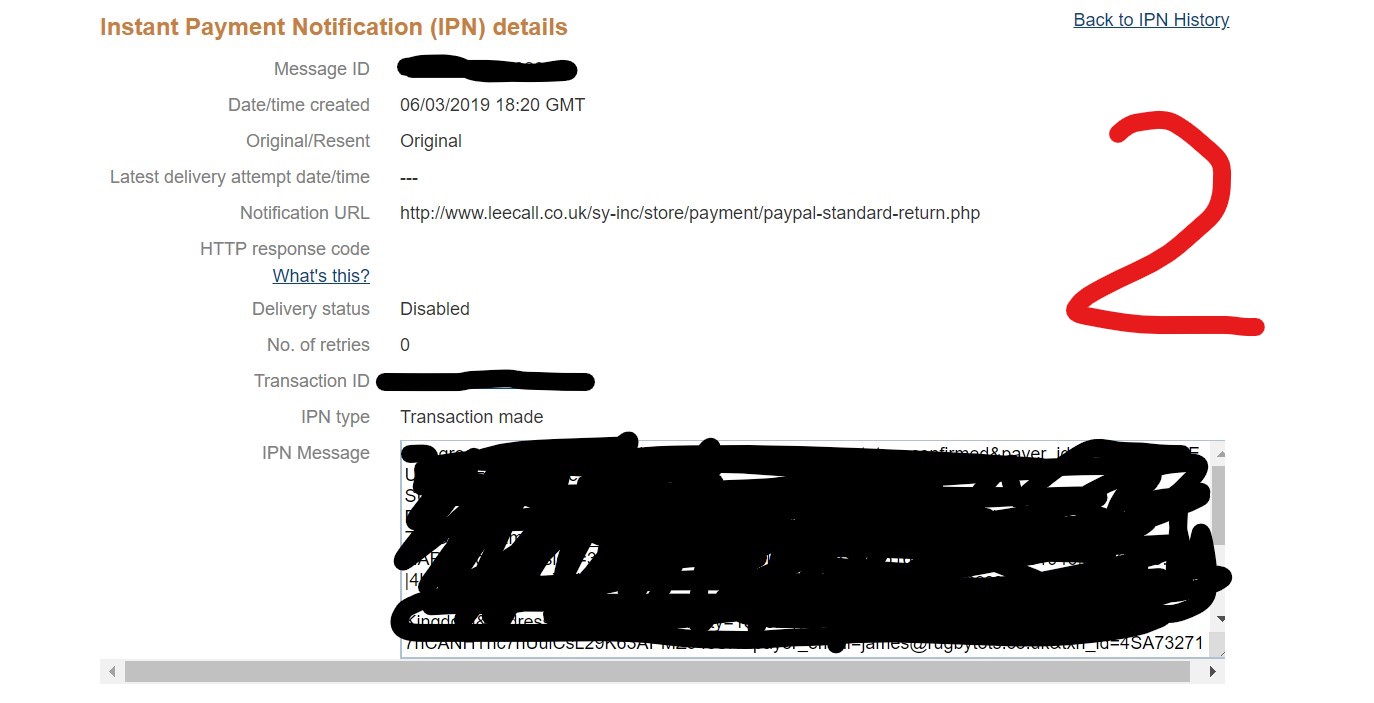 Where did onlinepictureproof.com come from? Is it in one of the Notification URLs like in your screenshot above?

It could be that it is not a httpS URL.

In your Sytist admin, click on Settings in the main menu. Then underneath the left menu click edit config file.

Change this line:

$setup['url'] = "http://".$_SERVER['HTTP_HOST']."";
TO:

$setup['url'] = "https://".$_SERVER['HTTP_HOST']."";
Notice we are adding a s to http.

That way it will send a secure/httpS URL for the IPN.

ok ive made that change and another couple of orders have come through and it is still saying 'Disabled'
No the onlinepictureproof.com was set up as the IPN destination but nothing seemed to be going there. ?? very strange.
So its still not working..
https://www.leecall.co.uk/sy-inc/store/payment/paypal-standard-return.php
This seems to be a blank PHP file.. is that right ?
Can see the following error on log

PHP Notice: Undefined index: payment_gross in /home/mediasqc/leecall.co.uk/sy-inc/store/payment/paypal-standard-return.php on line 50
That link should be blank.

PHP Notice: Undefined index ..... nothing to do with it.

At this point, you will need to contact PayPal about it now being disabled. Probably disabled because of all of the failed attempts. And maybe they can tell you why they have failed in the first place.

And if they can push them through somehow, then it might just create the orders because it is going to the correct IPN URL (was thinking before it was going to the other site).
I spoke to paypal, it says disabled because you said to turn it off because you send the info with every order. I cant have it enabled and no URL inserted. ?
Edited Wed Mar 06, 19 2:00 PM by Tim - PicturesPro.com
ok I inserted the correct URL and turned on IPN and its still not working.
I have spoke to paypal and they have given me this to try.. it may as well be in french for me lol (i dont speak french by the way)
"This could be because the IPN listener is not responding or doing the postback as expected -
To check why your IPN listener is not working properly please follow these steps:
1) Check if you use/pass some special characters in your variables such as ¬, ~, }, |, # or any of the special characters as they could give problems
2) Try to change the [charset] used to UTF-8, to do that log into your PayPal account and then click this link:
https://www.paypal.com/cgi-bin/customerprofileweb?cmd=_profile-language-encoding
Select "more Option" and change the values on the drop down menus selecting UTF-8, click save.
3) Check that your Firewall doesn't block our IP addresses. PayPal uses the 443 port. You can find here a full list:
https://www.paypal.com/us/smarthelp/article/what-are-the-ip-addresses-for-live-paypal-servers-ts1056
4) Check that you are using the correct endpoint for the IPN, live for live transactions or Sandbox for test ones. The ipnpb.paypal.com and ipnpb.sandbox.paypal.com endpoints only accept HTTPS connections. If you currently use
www.paypal.com
, you should move to ipnpb.paypal.com when you update your code to use HTTPS.
5) Try to eventually use one of the listener scripts in here:
https://github.com/paypal/ipn-code-samples
Please also take in mind the IPN message authentication protocol, it consists of four steps:
1) PayPal HTTP POSTs an IPN message to your listener that notifies it of an event.
2) Your listener returns an empty HTTP 200 response to PayPal.
3) Your listener HTTP POSTs the complete, unaltered message back to PayPal; the message must contain the same fields (in the same order) as the original message and be encoded in the same way as the original message. Note: This message must contain the same fields, in the same order, as the original IPN from PayPal, all preceded by cmd=_notify-validate. Further, this message must use the same encoding as the original.
4) PayPal sends a single word back - either VERIFIED (if the message matches the original) or INVALID (if the message does not match the original)."
This could be because the IPN listener is not responding or doing the postback as expected -

If that was the case, it would be a firewall on the server blocking it. Might want to double check with your host about that.

Keep in mind this just suddenly started happening. It's not the code in Sytist causing this. Something somewhere else is blocking the IPN. But now if it is saying disabled, it is disabled on the PayPal end.

Loading more pages