Photo Sort Order Issue
Hi Tim,

I have uploaded sub galleries to a gallery and the images are appearing out of order. I have tried uploading the galleries once sorted by name to no avail. Attached is an image showing filenames as Room: Last Name: First Name: Image #: Student#.jpg

Is there a way of getting these images to upload in the correct order?

Many thanks

Simon


Attached Photos
---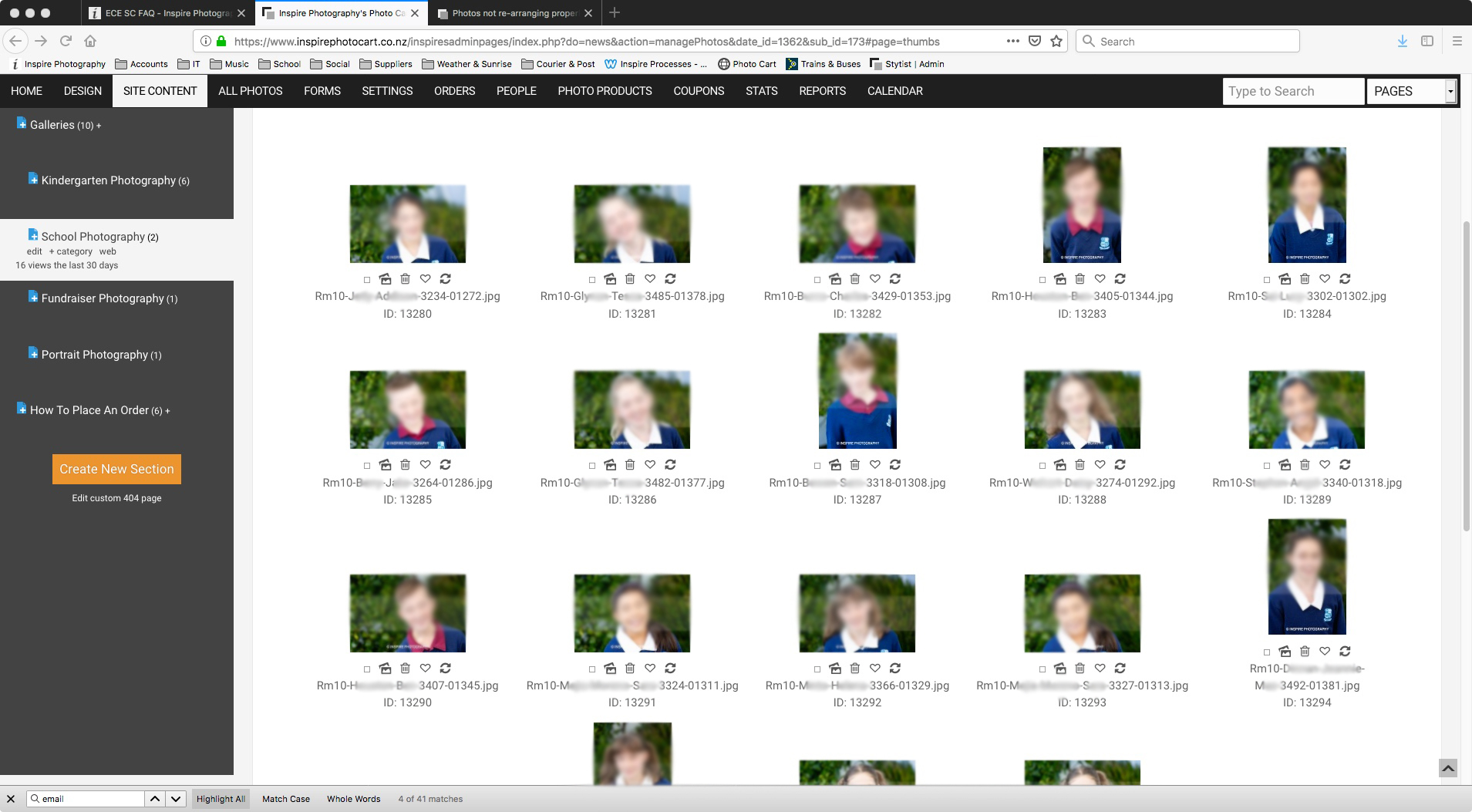 You can also arrange each galley but going to the gallery then Photo(s) then rearrange>>>> in there it will give you the above options and a manual rearrange.


Edited Mon Jan 21, 19 7:02 PM by Vance Birno
The problem is with the file naming because of the mixture of numbers and names. And they are in the order they were uploaded so they are in the order they were on your computer or the server, depending on how you uploaded them.

You could try the rearrange option (the photos in the gallery in the admin and click the Rearrange Photos tab) and select the date/time option to order them in the order they were taken (if the EXIF data was in the photos).
Hi Tim,
Yeah, I have seen that option, just wondered if there was a way to get them uploaded and sorted without doing the re arrange tab, as doing that in our busy school season to every gallery and sub galleries for schools will be a little task intensive.

So Sytist will not re order photos by file name properly if the file name contains letters or names?




It's not Sytist. It's the way the computer or server interprets the order of the photos. I can see in your screenshot the photo IDs are incremental so they are in the order they were uploaded. So that means either your computer they were in that order or on the server that got in that order ... depending on how you uploaded the photos. I think the mixture of letters, numbers, letters, numbers is causing that.

Loading more pages