You will still receive notifications of replies to topics you are part of even if you do not subscribe to new topic emails.
Sytist 3.8.4 Is Compatible With Php 7.4?
Sun Nov 19, 23 9:43 PM
CST
Hi,
I just updated my php version to 7.4 and I not managed to login to my Sytist account.
Can I confirm if Sytist Version 3.8.4 is compatible with php version 7.4?
Thanks,
yeemei
Thu Nov 23, 23 9:05 PM
CST
Hi, I cannot login my Sytist admin, I'm not sure if it is due to the php version.
I'm not able to login into admin and perform the Sytist version upgrade.
Can anyone advise?
Fri Nov 24, 23 9:18 AM
CST
set php back to 6.xx then upgrade sytist, then change php. Always upgrade sytist first then PHP.
Sat Nov 25, 23 10:37 AM
CST
I've manually updated my Sytist version to Sytist Version 4.6.1.
However, I'm still unable to login to my Admin Page.
After I enter my email and password, it didn't log me in to my Admin Page.
Can you advise what is the problem?
This is very critical as my photocart is not able to access at for few weeks.
Attached Photos
---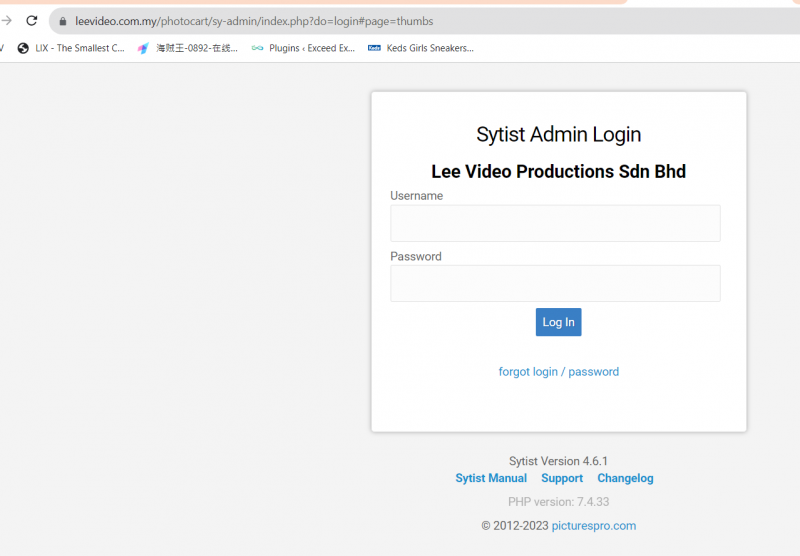 Sat Nov 25, 23 11:00 AM
CST
Sun Nov 26, 23 2:47 AM
CST
Sun Nov 26, 23 3:09 AM
CST
I can't help you, but being at 95% of your file usage node count is an issue.

Sun Nov 26, 23 9:36 AM
CST
I just went to your site leevideo.com.my and it appears there may be an issue with the .HTACCES file seems to be it is corrupt. I was blocking pop up after pop up. If you have your original installation folder, delete the existing .HTACCESS file and re-upload. But i agree with trailboy you are at 95% and node count will be an issue, I highly recommend you do not store your content on that server and use Amazon S3. Sorry That's all i can help you with.
10 total messages
This post has been viewed 96 times

Loading more pages