You will still receive notifications of replies to topics you are part of even if you do not subscribe to new topic emails.
Sytist Users How Do You Manage The Original Files?
Mon Mar 13, 23 12:34 PM
CST
I need a discussion with you, to understand if there is a way to improve an aspect of my use of sytist that maybe escapes me

I do sports events with immediate printing on the spot, I use sytist to upload photos both in real time during the races (so people choose the photos from the bleachers and then come directly to buy them at the stand, and for the classic post-race online sale

in two years of sytist we have taken and uploaded 1.5 million photos, it is obviously not possible to upload the original files both for reasons of web space, internet bandwidth, and color correction that we only do on sales, so we upload a reduced, resized version

this cuts us off from the concept of "Download" and we use "other" as a "Product Type" for the sale of digital files, arranged individually, which we then send by email via wetransfert-style systems or similar

any idea on how to manage the sending of the corrected and definitive original files via sytist?

I would bypass the "Replace Photo" function inside "manage photo" which is limited to a single photo at a time and my beard grows in the meantime :) (instead of a hypothetical "Replace all Photo order")
who of you manages large quantities of photos how do you do? where do you keep the TB of data? How do you match digital files held externally to an order?

thanks for the comparison

Edited Mon Mar 13, 23 12:36 PM by Marco B
Tue Mar 14, 23 2:27 PM
CST
Hi Marco, i do not have many calls for full original size, partly price and file size, max i upload is 3200 pixel and that can be downloaded. Those are big enough for 8x10 or 11x14(might be pushing it a bit). I create a zip folder if more than 4 images for them to download if full size is requested and send them a link. But there is a feature available on downloads "Do not allow download until i replace file" Then i just go to the gallery and click upload, and select "replace file with same name" you can upload as many as you like, just like uploading for the first time. little longer way would be to have them pay for the downloads and create them there own gallery and upload and set to "Free Downloads" Give them two weeks to download, once downloaded delete their gallery.
Attached Photos
---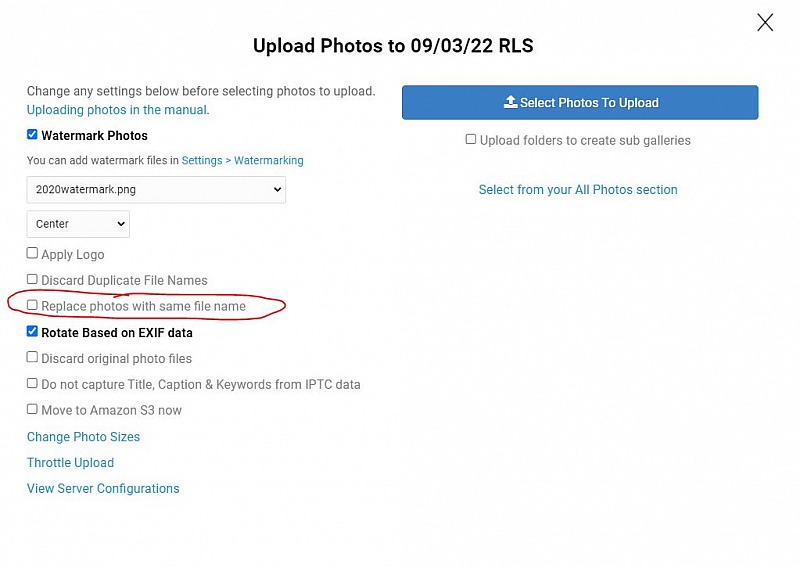 Edited Tue Mar 14, 23 4:10 PM by Vance Birno
Wed Mar 15, 23 10:37 AM
CST
thank you Vance Birno you always have a helpful word for everyone.
the solution you proposed to me would greatly increase the occupied hosting space, for something that once downloaded by the customer no longer needs to be there to occupy space.
The files I send are 4-5-6Mb each and in 1 year they would be many Gb unnecessarily occupied and very expensive.
It could be a solution if sytist automatically deletes them after x days
Wed Mar 15, 23 12:00 PM
CST
hi Marco, try testing delete original after purchase.
Wed Mar 15, 23 12:31 PM
CST
I can't find this option, can you tell me how to find it, thanks
5 total messages
This post has been viewed 95 times

Loading more pages