You will still receive notifications of replies to topics you are part of even if you do not subscribe to new topic emails.
Passcodes And Green Screen Proofing
Tue Jan 15, 19 2:03 PM
CST
Not sure if this is a bug or something else, however, until today we have been unable to help some of our school parents access the green screen feature on their school gallery. The frustrating part is some images have the background replacement work just fine while others retain the .png white background and do not offer any background choices. In addition to using the green screen feature, all of our schools are set up to use passcodes to access a photo.

Today we discovered if symbols are removed from the passcode everything works fine. The common thread among all our green screen issues had been a symbol was included in the passcode. Once we re-imported the passcode, sans symbol, everything worked fine. Don't know if anyone else had come across this, but thought we would share just in case it might help someone else.
Wed Jan 16, 19 11:52 AM
CST
Are you sure the png files that are showing a white background are actually transparent? If you want, you can email me a link to a gallery with a password so I can test it out.

For the photo passwords and special characters, that is something I have addressed for the next update. It has to do with url encoding and those special characters being passed.
Tim Grissett, DIA - PicturesPro.com
My Email Address: info@picturespro.com
Thu May 18, 23 1:29 PM
CST
Hey Tim,
Do you know of any limitations on characters in filenames for passcodes? We have our Passcode Photos Search by set to "In the File name." One our photos the passcode between the dashes in the file name is only 4 letters long. The passcode does not pull the photos. It does however pull an old gallery with the same 4 letter passcode in the gallery title. The photo filenames of that gallery do not have have the passcode in them at all, just the title of the gallery does. These are .png images with background choice, not sure if that matters or not. Any ideas? Thanks.
Edited Thu May 18, 23 1:30 PM by Joey Freeman
Fri May 19, 23 4:28 AM
CST
In Settings -> Photo Settings you set how you want to do passcode photos. It is an universal option meaning you can't have one gallery with passcodes in the title and another with passcode in the filename.
Tim Grissett, DIA - PicturesPro.com
My Email Address: info@picturespro.com
Fri May 19, 23 10:12 PM
CST
Hello Tim,
Thank you. I do understand the universal setting. I guess my question was more, "Is there a Minimum character length of a passcode? I have a gallery ( https://www.sportslinephotography.com/?r=641347 ) That is set to passcode with photos that should have Walz as the passcode. (see screenshot below) However it brings me to a gallery that has Walz in the title instead. I did change the file names around to Walz-Scottie-1.png added them to the gallery and can get them to show up when using passcode Scottie but not walz. Hopefully that makes sense.
Attached Photos
---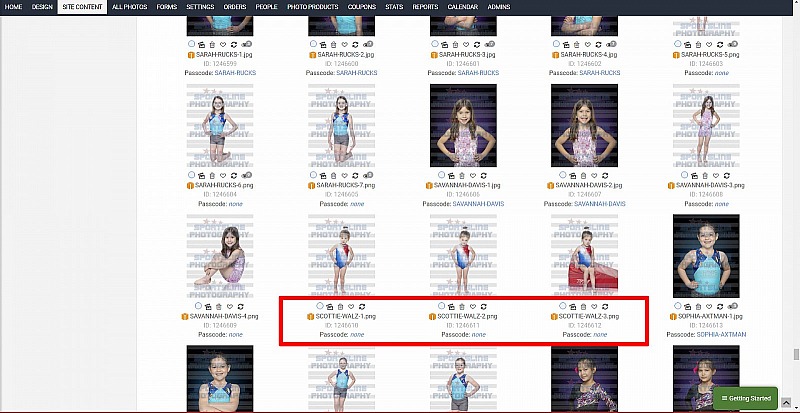 Mon May 22, 23 4:50 AM
CST
There is not a minimum length. It doesn't show the passcode under the thumbnail when using it in the filename. It says none because there is none in the title (I guess it shouldn't show anything).
Tim Grissett, DIA - PicturesPro.com
My Email Address: info@picturespro.com
Mon May 22, 23 11:17 AM
CST
Thanks Tim,
Sorry for the confusion. I was just trying to show that Walz should pull those photos but it does not. That is why I askes about the minimum length. I wasn't referring to the passcode:none. Can you think of any reason why it doesn't pull those photos but pull up an old gallery instead?
Mon May 22, 23 11:35 AM
CST
1) Settings -> Photo Settings, it isn't set to search in the filename.
2) You are trying to search for it from the admin and it won't if it is in the filename.
3) You are searching from the main find my photos search box and you have the same password in multiple galleries.
Tim Grissett, DIA - PicturesPro.com
My Email Address: info@picturespro.com
Mon May 22, 23 11:48 AM
CST
Mon May 22, 23 11:51 AM
CST
I need to see the settings. Send me:
1) The link / URL to your Sytist admin (where you log into your Sytist admin).
2) The admin username and password (or create me an admin account by clicking Admins in the upper right corner of the admin pages).
3) Access to the Site Content section AND settings section.
4) The name of the gallery
Tim Grissett, DIA - PicturesPro.com
My Email Address: info@picturespro.com
10 total messages
This post has been viewed 266 times

Loading more pages