Attention
If your Photo Cart is suddenly getting a 500 error or only displaying a blank page then you or your hosting company has updated the PHP (programming language) to PHP 7 which Photo Cart is not compatible with (and will not be compatible with) mainly because of the removal of the my_sql functions which are replaced with my_sqli functions.
You would need to have the PHP version downgraded to 5.6 in order for Photo Cart to work. If downgrading the PHP doesn't work then you may have to update Photo Cart to the last version of 7. Download Photo Cart 7 upgrade files. Upgrade instructions.
You will still receive notifications of replies to topics you are part of even if you do not subscribe to new topic emails.
Watermark Not Showing Up On Thumbnails
Tue Sep 23, 14 8:44 AM
CST
I am having an issue when trying to watermark thumbnails in Photo Cart. I have attached the settings I have set for Photo Cart and on all the galleries I do not have the "Remove Watermark" box checked. What am I doing wrong or how can this be corrected?

I hope this is something simple that I'm just missing...I've looked at it for weeks and still cannot figure it out.


Attached Photos
---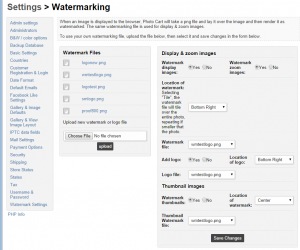 Stephanie - FrazeledCreaitons.com
Wed Sep 24, 14 7:53 AM
CST
To enable watermarking on thumbnails you need to go to Settings -> Gallery & Image Layout and set the option for "Select function to display thumbnails" to Encrypting. However, I don't recommend doing that because the function it uses to do that can be a strain on the server and thumbnails are small any ways.
Tim Grissett, DIA - PicturesPro.com
My Email Address: info@picturespro.com
Wed Sep 24, 14 9:00 AM
CST
Thank you! While they are small...the thumbnails look great on mobile devices and are frequently screenshot rather purchasing the digital download. Have a wonderful day!!!
Stephanie - FrazeledCreaitons.com
3 total messages
This post has been viewed 2,832 times

Loading more pages