Starting with Sytist version 3.1, there is a better way to pre-orders.
You can pre-sell collections/packages where the customer can purchase a collection before the photos are available, then return later and select the photos for the collection they purchased. Here is an example in the demo.
If you want to just pre-sell the collection and they will not be selecting photos for it later, see this article on how to set that up.
First you will need to create a new section. Go to Site Content -> Create New Section. In the new section wizard, select Buy section.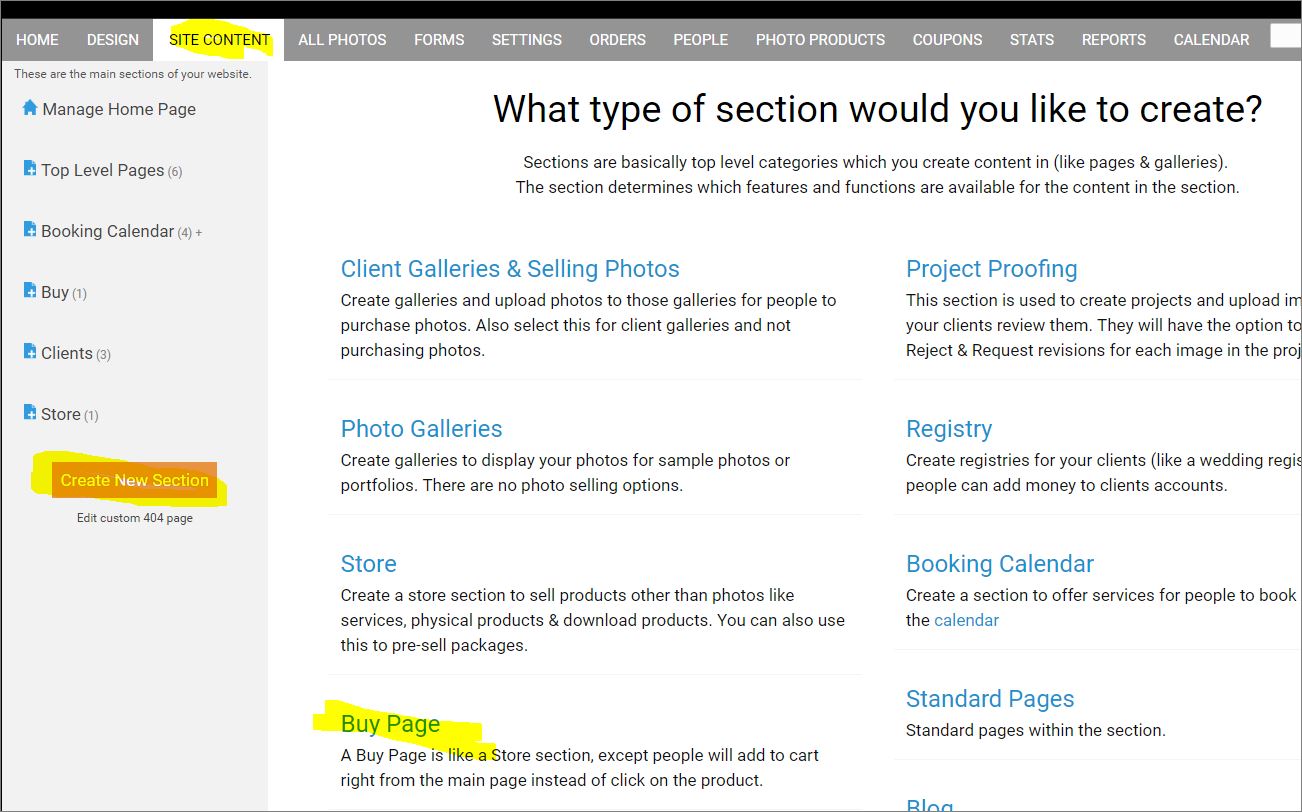 Now you can start creating pre-sell packages by adding a new page to this section for each package / collection you want to offer.
After you have created the page, you will have the following options.
Product Type - Select "Pre-sell collection". After that is selected, you will have a drop down menu to select which collection you are wanting to sell.
Have customer select from pre-registration pages (optional) - with this option selected, the customer will have a list of pages / galleries to select from they are purchase the collection for (so you will need to create the gallery first and set it to pre-registration). Once they complete their purchase, their email address will automatically be added to the pre-registration for that page / gallery & they will automatically have access to the page when it becomes available (won't have to enter a password). And when you have the gallery available for viewing, you can email them from that gallery page in the admin.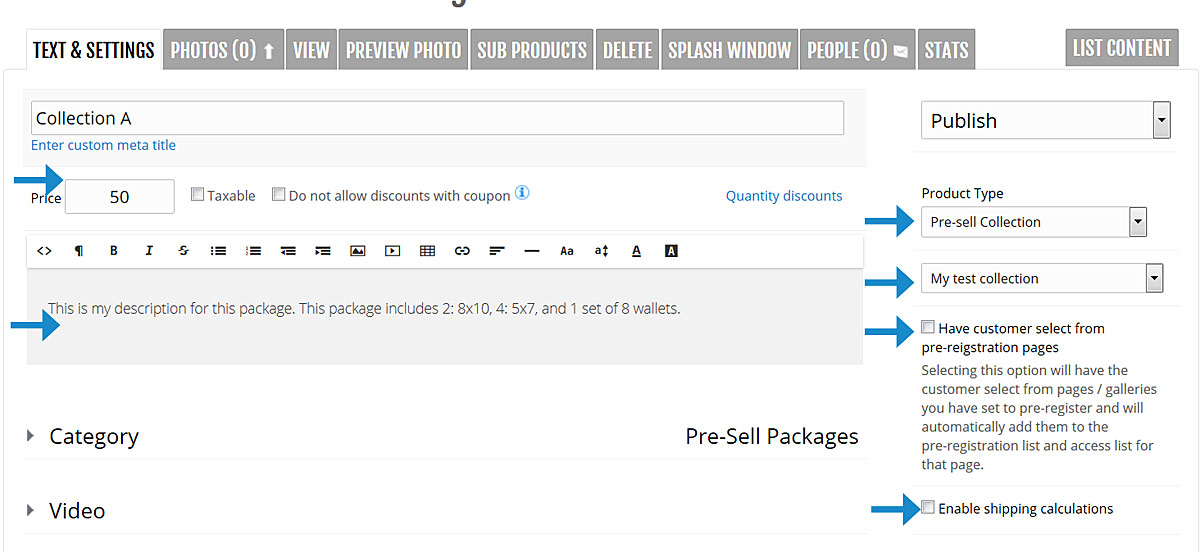 When you have all your pre-sell packages set up, the page on the website will look something like below. Notice in Collection B I have the option for " Have customer select from pre-registration pages" selection and the please select an event will be a list of pages / galleries you have set to pre-registration.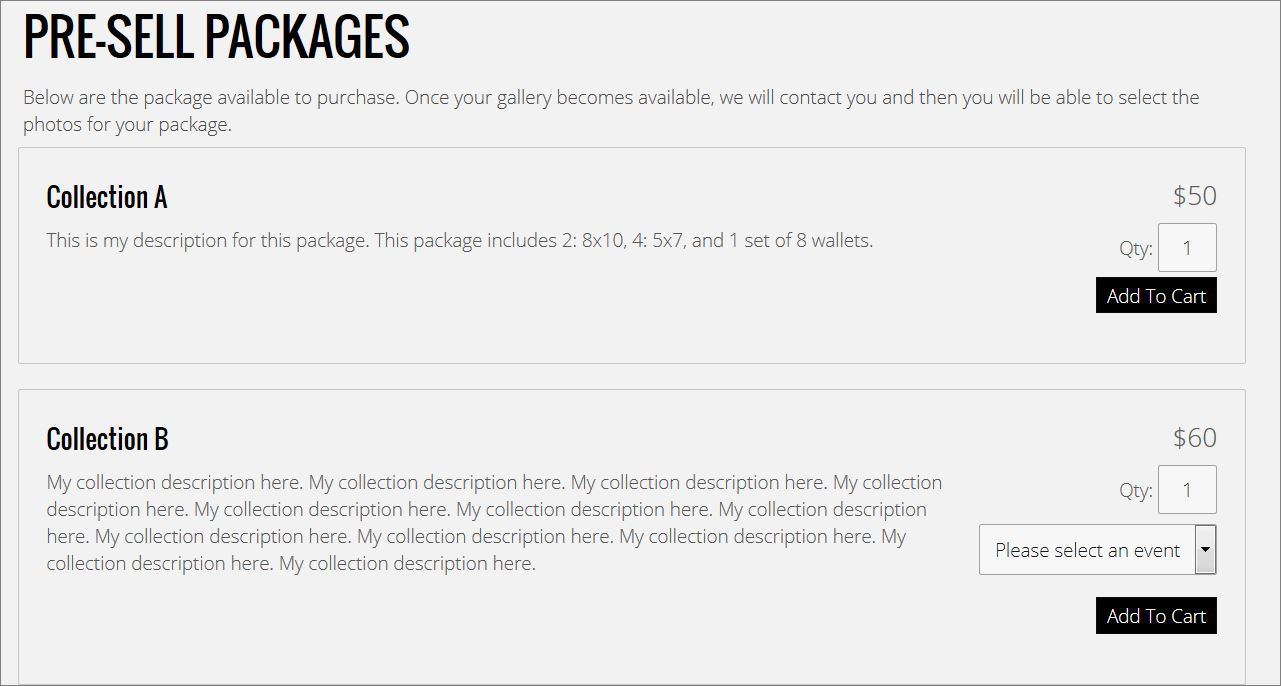 When a customer purchases a pre-sell package, what happens is once the purchase is complete, the package actually gets added to their shopping cart. So when they log back in to view their photos, they will be able to select the photos for the products in the package and then place their order.
Options
You can also create options for the pre-sell packages by clicking the Options section under enable shipping calculations when editing the page for the pre-sale item.
This can be used to have the customer to enter in a child's name.
If a customer selects or fills out an option, the results of those options will be shown on the order AND those option results will also be transferred to the package so when they do select the photos for their package and place the order, you will have those option results available to you.