Collections Within Collections Multiple Pose Options
Tim,
I offer a discount on(packages)collections when my customers purchase multiple collections. All of my collections are restricted to one pose(ie. PackageA=$50). From reading the forum it seems print credits do not work on collections so to get around this I have created a new collection(ie. 2A=$75) that consist on two collections(ie. A+A) and can not find a way to have the option for the customer to choose a pose for each collection(A). I think I could create a new collection and allow 2 poses (list the contents of 2 package A's)but then they would have to select each size photo inside of the collection instead of just selecting one pose for each collection. Any suggestions?
Attached Photos
---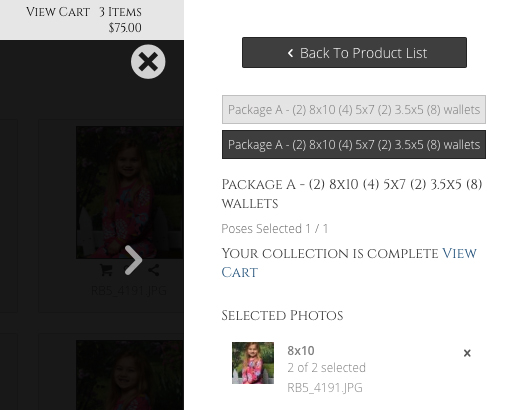 Here is how you can set that up.

In Photo Products -> Product Base, create new products for each package you want to include. Example, name the product (2) 8X10, (4) 5X7, (2) 3.5X5, (8) Wallets. Set the product type to other.

Then create a new collection and add those products to the collection. Set the number of poses available to 0.

When they add the collection to their cart, they will see product 1 and product 2 (the name of the product you added) and then they can select a photo for each product (which is basically a 1 pose package just as a product).

Loading more pages