500 Internal Server Error - Uploading Images
Maybe the photos are larger than what you normally upload and too large for the server to process.

In the upload dialog, click View Server Configurations. If your photo file sizes are larger than Upload Max File Size or Post Max Size, then that is the problem.

Attached Photos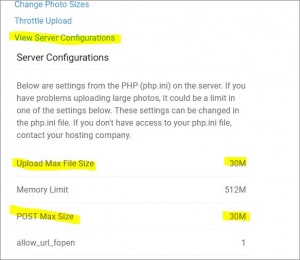 Are the dimensions of the photos larger than normal? Could be that is too large. depending on the memory limit value. Try smaller photos. If that doesn't work then you might have to contact your host because a 500 error is a server error.
Hi Tim,

I manually adjusted the max dimensions on a single upload and that didn't seem to help me. Is there someplace I should change it so that it doesn't ask for it every time?

I haven't made any changes to the photo sizes I upload or the operating conditions, outside of running the Stylist update.

I'm not sure what I need to be telling my host, as they don't offer any support for Stylist.
I can tell by your error log that the photos are too large for the server to process.

When I asked if the dimensions of the photos larger than normal, I mean the dimensions of the photo file you are uploading. Not the resize settings.
This is exactly what is happening to me. I checked one of my images. It is 2.25mb (resized with lightroom and viewed properties in windows file explorer) but when opened in photoshop it is listed as 12x18 inches and 57mb!!!!!! Same exact file. I just downloaded new lightroom and photoshop. Could they be utterly bugged? The files behave like small files and upload like 2 megs not 57 megs (they ARE 2 meg files!) but obviously something is telling photoshop the file is much larger. A bug?

I also have had no trouble in the past with this and have changed nothing except downloading the new programs on a new laptop. Something in error in the metadata telling the server it is a 57mb file somehow? Going to Dr Google this. Did you also just download a new copy of lightroom Jen?
Edited Tue Jan 23, 18 10:33 PM by Dean Lake
You should be able to see the dimensions by viewing the file properties on your computer or the image size in Photoshop.

Like with Dean, it may be 2.25MB, but it could have the dimensions of 6000 x 4000 or higher which might be too big for the server to process.

Loading more pages