Coupon Code Applied Before Taxes And Client Had To Pay For The Taxes
Hi!
I got a bug with my coupon!

I made a $91.98 coupon to cover for a package and the taxes but the system only apply 80$ (before taxes) and the client had to pay for the taxes!!!

Weird!


Attached Photos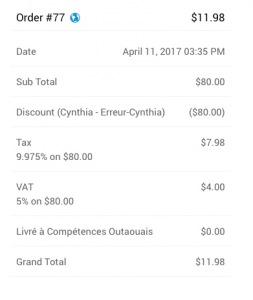 It is set to before ...
Attached Photos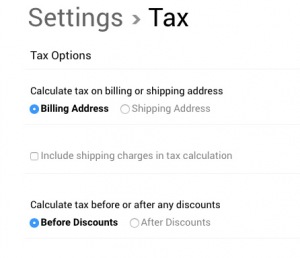 Hi Tim,

I need the coupon to calculate tax before applying but apply the coupon after the tax. Example - I create my $30 coupon with a range of $26 - $30 - client purchases $28, the tax is calculated correctly making the total $29.93 but then the coupon is only coming off product total of $28 leaving the client having to pay the $1.93 tax. Any way to get the coupon to come off the total after tax and shipping?
Kat
You should set it to calculate tax after the discounts if you want it to cover all of it. I don't see a reason to calculate tax before, but have the coupon cover the entire order and so no tax is actually being paid.

Or sounds like you might want to actually assign an account credit and have the credit come off like a payment (view the person's account in the admin to do that).
You have to calculate tax on the whole purchase. Example above the client prepays $30 but decides to only purchase $28 in product - tax is calculated on the $28 and this brings it to 29.93 still within the deposit amount (they forfeit the .07) so the tax calculation works because I have set to calculate tax before coupon but the coupon is applied before the tax (and shipping) is totaled, so the client is only getting $28 in coupon credit and not the $29.93. Account credit helps but I sell the coupons to up to 500plus clients a dance season so it is only when they notify me prior to placing the order that the system wants to charge them tax that I can switch the credit from coupon to account credit. Otherwise I have to do refunds (yuck). Make sense?

HI Tim,

Just checking if you have anytime to think on this?

Thanks as always for such great products!
Kat

Loading more pages