Downloading To Iphone
Have a few customers cannot download to iphone. I have tried from my iphone also and it goes through the motions but seems to download nowhere.
I've read all of the download-to-phone topics in support forum but still cannot figure out what needs to be changed.. The one answer in forum of ' copy/paste in php log ' is beyond me so didn't want to mess things up more.
Anyway you can help Tim? I have not heard from any android customers so not sure if this is just an iphone thing?
thanks for all your help.

In your Sytist admin click Settings in the main menu then UNDERNEATH the left menu click edit config file.

Before the closing PHP tag at the end of the file (which is ?>), copy the following line and paste it there and should fix it:

$setup['do_not_use_content_length_header_download'] = true;
Attached Photos
---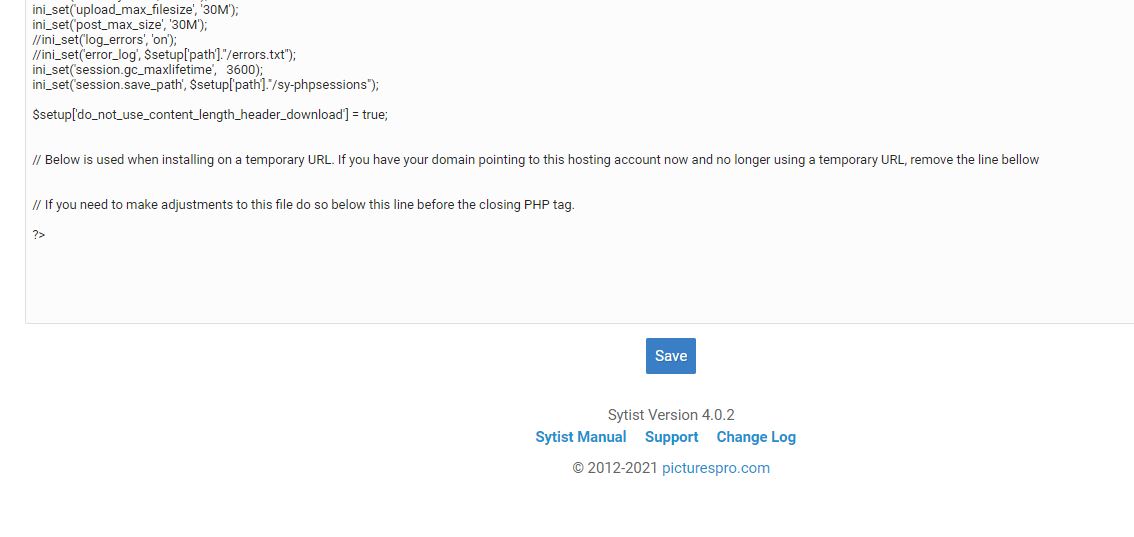 I have had issues with folks using iPhones not being able to locate their downloads as well. The majority of the time it is operator error.

The files are there, they just do not know where to look. (Android and PC user, so a customer told me this, I do not nor have I ever owned any Apple products so no experience with them at all).

I send them this and it clears 99% of the issues.

"Download the file and open the Apple app named "Files" and set it so the newest files are first." they then can find the file they just downloaded.

I also send the files via WeTransfer, not Sytist. It is manual operation and because if sending multiple files, the download is a zip file. The Apple people again have no clue how to open it to view the images. I send the same thing, but tell to click on the zip file and you can see them.

Then they cannot do anything with them yet, as they are still in the zip file, which they need to unzip and as far as I know, iPhone and iPads do not have that natively.

They need to move it to a laptop or desktop to open it. Macs are able to do that.

I have not had any of those issues with Android or PC users.

A little Apple bashing, but the majority of folks (customers)with Apple products do not have a great handle on how to do much more than the basics with their electronics.

Loading more pages