Drop-down Options Not Charging Correctly
Hi Tim, my clients are getting a big discount on their frames and I'm not sure why.

In my packages I sell prints with the option for adding a frame; the price is supposed to be an extra $29.99 and it shows that in the purchasing area, but in the cart the price is only $9.99.

The product has an option for 'laminate' which is just a checkbox ($9.99) and then a set of graphic options for which frame to choose (each frame is priced differently, but they're $24.99 and up). My client selected both the laminate and the framing, and they were charged $9.99 twice.

Any help with this? Did I set it up wrong or is there a bug happening here?

Plus, any tips on what to tell my client haha he got a few frames because they were such a great deal!
Of course! Here's the details, if you want to log in to our site and look it over.
•
• Collection: Master Package
• Products that are doing this:
11x14" Deluxe Wall Portrait
and
1-8x10 Print
• Options as in settings:
Leather Laminate (Checkbox) - $9.99
Frame Choices: (Graphics Option) - MS 511 composite Frame - $29.99 (for the 11x14)
Replication:
• Go to gallery
https://www.subphoto.net/client_galleries/2019_grad_photos_-_bruce_hoang/
• Order 'Master Package' from the Package Deals tab (add to cart)
• Add the 11x14" print and select both the laminate and the frame
• Back out a little and 'view cart'
• Photo is added with Frame for $9.99. (Frame Choices:: also has a double colon for some reason)
On further checking, if I *just* add a frame it's free apparently!
Help.
Attached Photos
---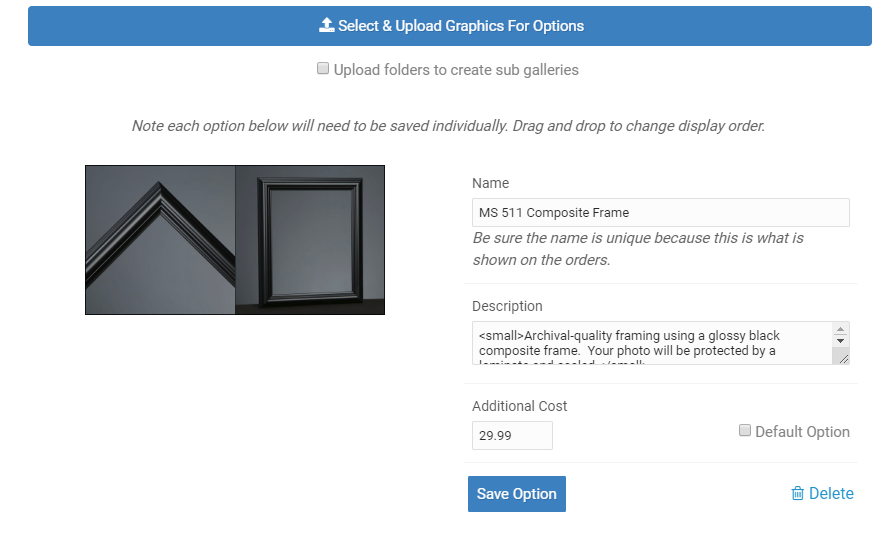 Edited Tue May 14, 19 4:41 AM by Tim - PicturesPro.com

Loading more pages