Streamlining Mobile Order Form Process With Packages
Tim -

I have noticed a decrease in sales over the last few years and it seems to directly correlate with the increase in the use of mobile browsers.

Several customers have told me ordering packages was confusing and some of them eventually gave up. Some sent me picture numbers for their order but who knows how many did not.

Having used Sytist since the beginning I am no stranger to how it works but I never tried to order on mobile. I attempted to place an order with a package requiring selecting photos on mobile and it took me three tries - and I know how it works!

The ordering process needs to be very seriously looked at and tested by those that have never seen it before. I am certain I am not the only one losing business this way.

I hope this can become a priority as Sytist is a great product but it can't allow the mobile world to be second as it clearly is the number one browser of choice in my stats.

Regards,
Joe
Edited Tue May 07, 19 2:26 PM by ShutterSpeak
Packages online are complicated. And the more complicated the packages are, the more complicated they are to use. I have it the best way I can think of to manage packages and one of the reason why I did the big overhaul a few updates ago so customers can tap to view photos and have the products and packages under the photos. If someone can think of a better way to do it on the phone, I'm all ears. But you are dealing with little screen real estate plus people not reading.
Tim,

The process of clicking on a picture, selecting a number of images, and then having to click the check is where people get in trouble - they don't know to click the check. If it is possible to allow the order form to proceed with numbers of images set without having to press the check that would help.

Honestly -that is where I got stuck and I know how to do it. Has it been usability tested on mobile? Ask a few people who have never seen it to try it on mobile and see what their experience is.

Yes - people don't read - I ask my clients to view on PC or a laptop and they almost all use mobile. What can we do except bend to the will of the masses?

Joe
Edited Wed May 08, 19 10:52 AM by ShutterSpeak
Tim - I have sent you an email in regards to this topic.
If they don't add the photos to the products, how are they suppose to select the photos for the products then? Here is a screenshot from the demo. I does say to click the check to add the photo, and the check as Add Photo next to it.

If you have 1 pose packages, the photo they are viewing is automatically added to all products in the collection so there are no other add photo options.
Attached Photos
---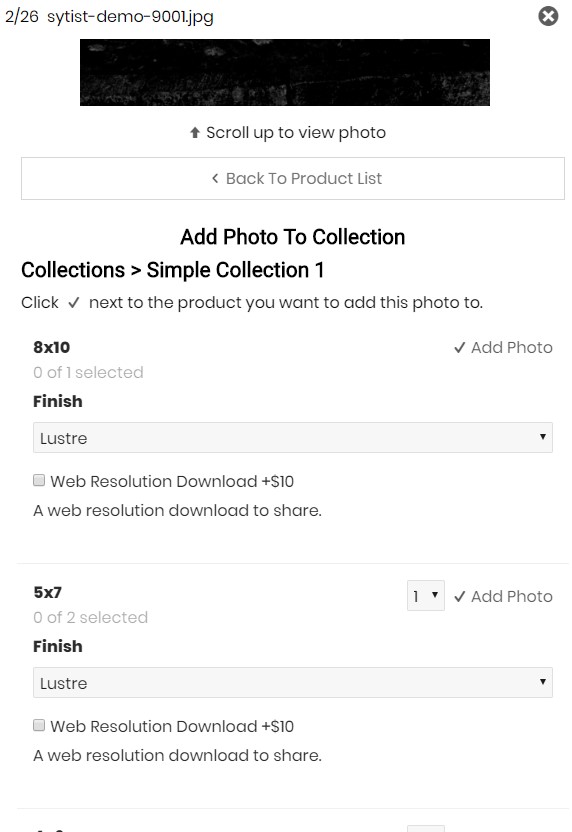 The problem I see is that - in the case of the 5x7 they can select 1 or 2. They choose the number thinking that is all they need do. Because they do not press the check after selecting the number of images the order can not proceed.

For the record - I watched a client try to do it and give up. It may be as simple as making the check a button so it is clear it needs to be pressed.
Edited Wed May 08, 19 11:05 AM by ShutterSpeak

Loading more pages