Gallery Setting For Find Photos I Can't Seem To Change.
Attached Photos
---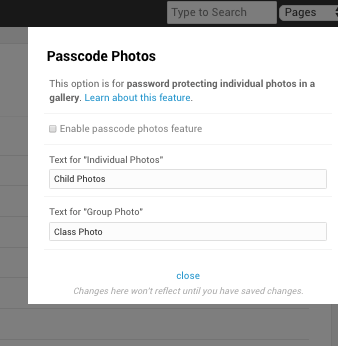 I think your have it password protected AND either set to passcode photos, or you have sub galleries and the option to not display sub galleries checked. Both of those options will show the find my photos form. You may need to remove the password protection for the gallery itself.
Edited Thu Mar 14, 19 12:41 PM by Tim - PicturesPro.com
Hi Tim, I think something weird was happening with my server! SO sorry to bother you. I tried turning off and on all those options and it still prompted to find photos, but this am it worked fine! Proof I should sleep on something before getting help! Thank you !

Loading more pages