Eliminate Buy All Of Favorites
I am a school photographer. I had only one product set up in my Buy All category - a download of the digital gallery. A friend of mine called me to tell me that she had marked 5 favorites across three different kid galleries, and the Buy All option was allowing her to purchase the 6 favorites as a Digital Gallery. What settings do I need to alter to ensure this doesn't happen?
Edited Mon Nov 12, 18 5:00 PM by michele noma
Hi Tim, I am having this problem too. I removed the BUY ALL button because this is what was confusing people when adding to prints to packages. This has worked really well (although I was sad to remove it). Anyway, now that it's gone, I have had a couple of people buy al favourites which is only giving them the files they had favorited, instead of all of them. Because they aren't in the buy all list - I don't have the option to turn off the highlighted option above??


Yes, I got rid of the Buy all product group (this was causing confusion with adding images to packages) so they are in a regular product group. Is it possible to turn off in regular product groups too?
Edited Mon Nov 19, 18 4:54 AM by Sarah MacKenzie
That's it. I want to have buys alls but I don't want the BUY ALL button above the thumbnails.

When people order a package when pressing the BUY ALL button, they get confused. The order workflow does not flow and many can't seem to add the images to the package.

Since I have removed the BUY ALL button, I have a lot less people calling for help.

I still want to have packages with buy alls. I have them listed in my normal product groups. But, because they are in normal product groups, the option to buy all favourites is there. It would be great to get rid of it - if it's there people will find it and purchase it. I had one customer quite grumpy they didn't get all of the digital files with their order - they had done buy all favourites.
You can put your buy alls in a product group for buy alls. Then you can remove the buy all button that displays above the thumbnails by editing your theme and in the Additional CSS section add this code:

.gallerybuttonsmenu .icon-basket { display: none !important; }
Attached Photos
---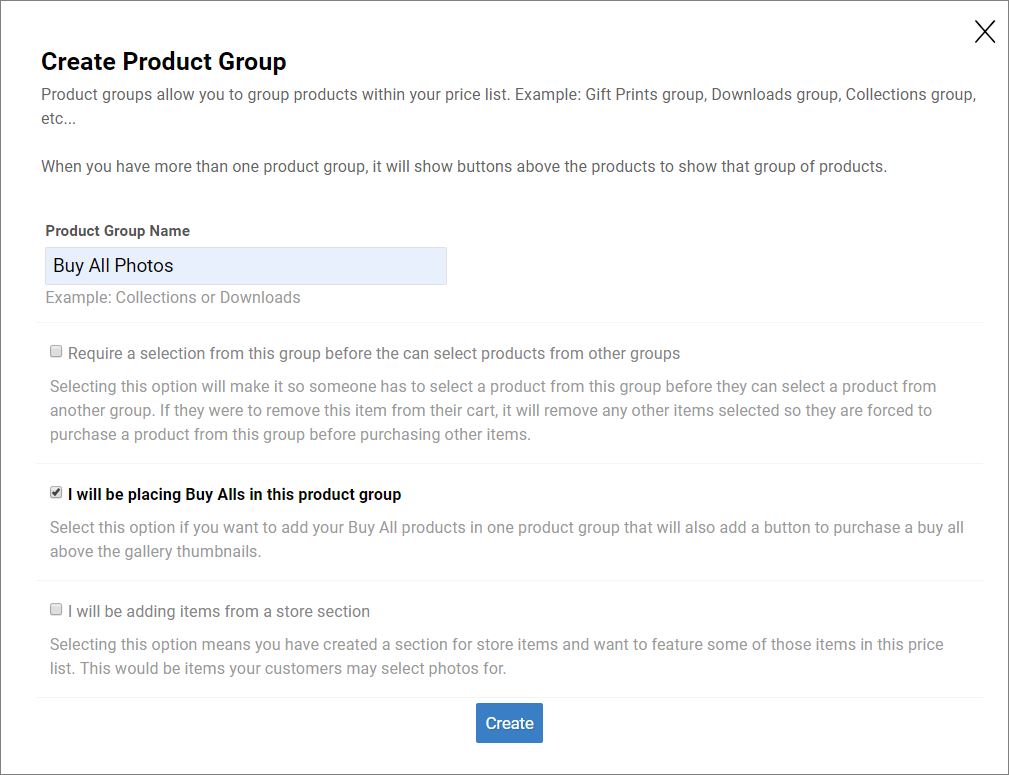 Loading more pages